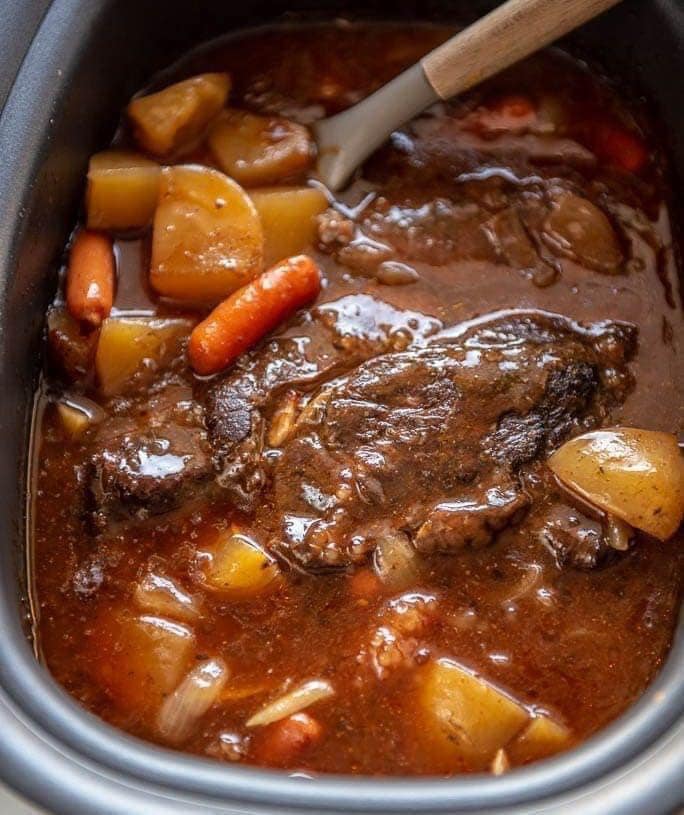 Ingredients:
2 pound chuck roast
2 cloves garlic
8 oz baby carrots
16 oz gold potatoes (halved or quartered if large)
1/2 cup red wine
1 tablespoon herb and garlic seasoning
1 tablespoon olive oil
1 tablespoon butter
1/2 sweet yellow onion
3 cups beef broth
1/4 cup tapioca pearls
1/4 cup cornstarch
2 tablespoons tomato paste
Instructions:
-Season roast with herb and garlic seasoning.
-Heat olive oil and butter over medium-high heat in skillet or multi cooker.
-Brown roast on both sides and transfer to slow cooker along with carrots and potatoes.
-Make a slurry of cornstarch by whisking until smooth with 1/4 cup water.
-Whisk cornstarch slurry with all remaining ingredients and pour into slow cooker.
-Cover and cook on low for 8-10 hours until fork tender.