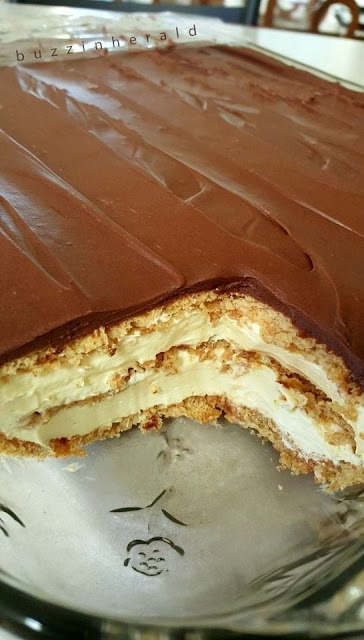 Eclair Cake
Ingredients:
°2 (3.5 oz) pack vanilla instant pudding mix
°1 container (8 oz) frozen whip topping
°3 cups milk
°1 pack (16 oz) graham cracker squares
°1 pack (16 oz) prepared chocolate frosting
*Directions:
Step 1: In  mixing bowl, add milk, whipped topping and pudding mix. Stir until well blended.
Step 2: Adding graham cracker squares to the bottom of a 13×9 inch baking dish.
Step 3: Spread half of pudding mix on cracker layer.
Step 4: Adding other layer crackers on pudding mixture.
Step 5: Top crackers with rest pudding mixture.
Step 6: Top with remaining graham crackers.
Step 7: Frosting cake all on.
Step 8: Place the cake in the fridge for about 4 hours to chill.
Enjoy !