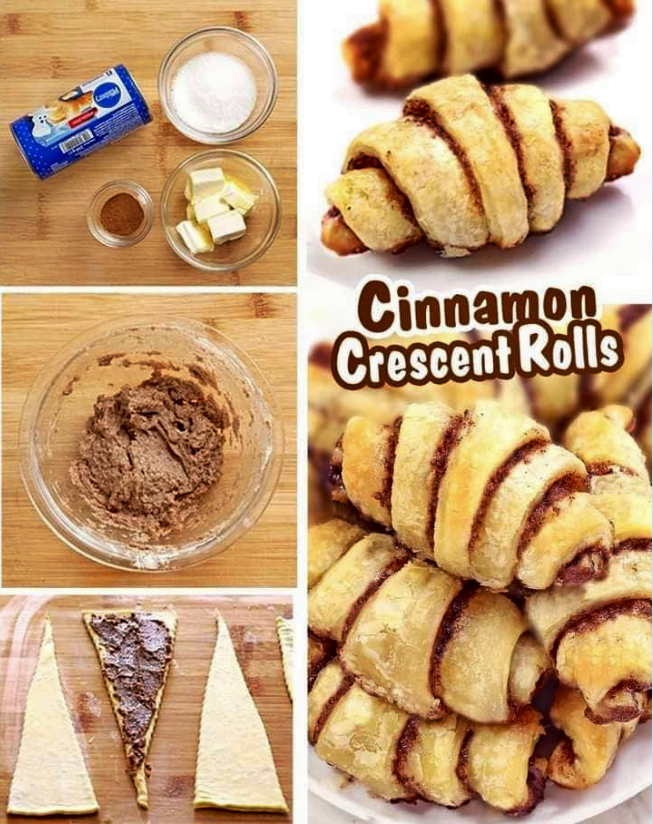 INGREDIENTS:
2 tubes refrigerated crescent roll dough or Crescent Dough Sheet
1 stick butter softened
1/2 cup light brown sugar
3 teaspoons cinnamon
INSTRUCTIONS:
Preheat the oven to 375F. Line a baking sheet with parchment paper.
In small bowl, combine butter, sugar and cinnamon. Beat until smooth. Unroll the crescent dough on the baking sheet, separating the triangles. Cut each crescent roll triangle in half lengthwise into two pieces.
(Or cut into triangles using a pizza cutter, or a sharp knife if using crescent roll sheet, triangles should be about 2 – 2 1/2 inches wide and about 9-10 inches high).
Spread about 1 Tablespoon of the cinnamon mixture on each triangle.
Starting with the largest end of the dough, gently roll each triangle into a crescent and arrange onto the baking sheet leaving 2 ½ inches apart.
Bake 10-12 minutes or until golden brown. Serve warm. Drizzle with milk and sugar glaze over the cinnamon rolls if desired.