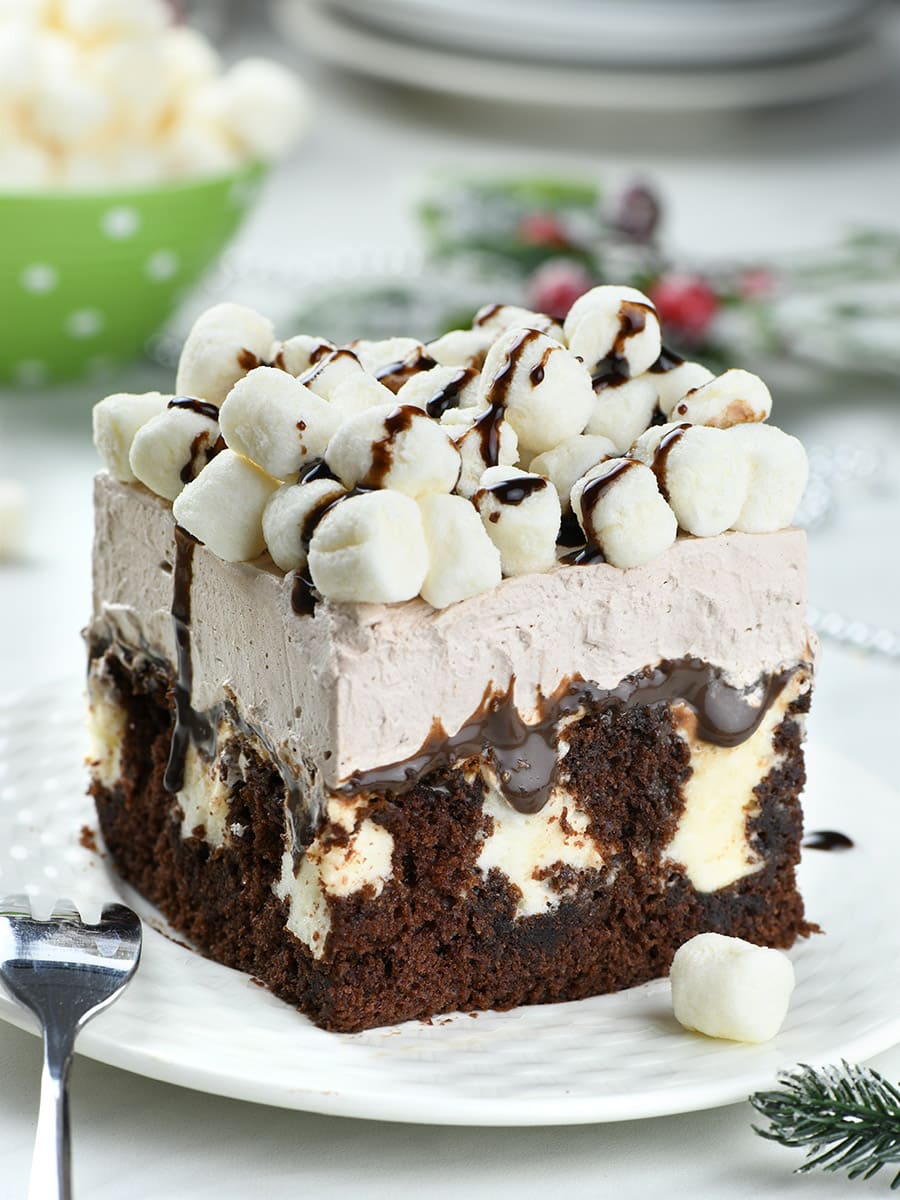 Ingredients
Cake:
1 box Devil's food chocolate cake mix
ingredients listed on the box (oil, eggs, water)
Marshmallow Filling:
2 cups marshmallow fluff
2 Tablespoons water
Chocolate Fudge Filling:
1 cup semi-sweet chocolate chips
1 (14 oz.) can sweetened condensed milk
2 Tablespoons heavy whipping cream
Topping:
2 envelopes instant hot chocolate mix
2 cups heavy whipping cream
1 teaspoon vanilla
2–3 cups mini marshmallows
hot fudge sauce-for decoration
Instructions:
Bake the cake in a 9 x 13 inches dish according to directions listed on the box.
When the cake is baked, using the handle of a wooden spoon poke the cake, making the holes about an inch apart. Do not poke it all the way to the bottom just about 2/3 of the height.
Place 2 cups of marshmallow fluff in a microwave-safe bowl and add 2 Tablespoons water. Microwave in a 20-seconds interval and stir until smooth. You can pour it from a jug or place it in a zip-lock bag and cut off the corner, then pipe it into the holes. Spread remaining on top. Place in the fridge.
Next, place chocolate chips sweetened condensed milk, and 2 Tablespoons of heavy cream in a microwave-safe bowl and heat in 20-second intervals, stirring until smooth. Spread over the cake and chill until the chocolate is cooled completely.
Beat 2 cups of heavy whipping cream with vanilla and instant hot chocolate mix until stiff peaks form. Spread over the chilled cake and garnish with mini marshmallows.
Drizzle with chocolate fudge sauce before serving, if desired.