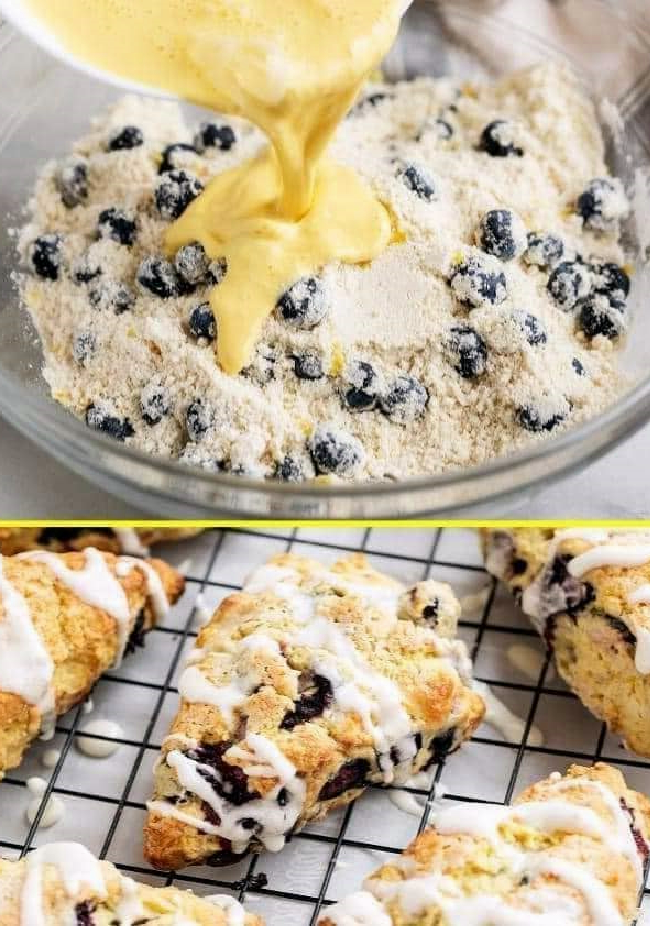 2 cups all-purpose flour, plus more for dusting
3 tablespoons sugar, plus more for sprinkling
1 tablespoon baking powder
3/4 teaspoon kosher salt
6 tablespoons cold unsalted butter, cut into pieces
1 1/2 cups fresh blueberries, rinsed and pat dry
1 teaspoon grated lemon zest
1/3 cup heavy cream, plus more for brushing
2 large eggs
1 teaspoon vanilla extract
1/2 cup (60g) powdered sugar
1/4 teaspoon vanilla extract
1 or 2 tablespoons freshly squeezed orange juice
1/2 cup heavy cream
1. To make the blueberry scones: Preheat your oven to 400ºF (200ºC). Sift flour, sugar, baking powder, and salt into a large bowl. Work butter pieces into the dry ingredients until you get a coarse texture – do not overwork the butter. Stir in blueberries and lemon zest.
2. In a small bowl, whisk together cream, eggs, and vanilla extract. Add the cream and egg mixture; stir lightly with a fork or a spatula just until the scone dough comes together.
3. Turn the dough out onto a lightly floured surface and knead a few times. Pat into a 6-inch round, about 1 1/2 inches thick. Using a sharp knife dipped in flour, cut the dough into four parts. Cut each part in half diagonally to form a total of eight wedges. Transfer the wedges to a parchment-lined baking sheet. Brush the tops with cream and sprinkle with more sugar.
4. Bake the blueberry scones until the tops are golden brown – about 20 to 22 minutes. Let cool on the baking sheet for 5 minutes, then transfer the baked blueberry scones to a wire rack and let cool completely.
5. While the blueberry scones are cooling down, combine the ingredients for the glaze until smooth. Drizzle the glaze over the scones.
Enjoy!