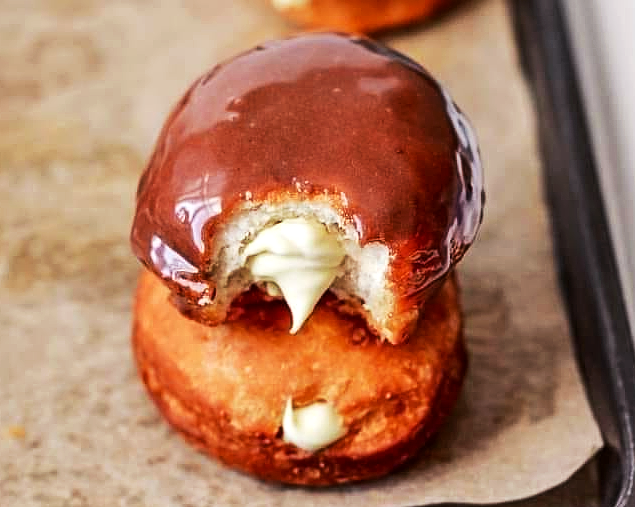 Ingredients:
1 can refrigerated biscuit dough 8 biscuits
2 cups vegetable oil or other neutral cooking oil
For the filling:
1 package instant vanilla flavored pudding mix 3.4 oz
2 cups heavy cream or half & half
For the glaze:
½ cup Nutella or other chocolate hazelnut spread
2 cups powdered sugar
¼ teaspoon salt
½ teaspoon vanilla extract
3-4 tablespoons milk
Instructions:
Line a baking sheet with parchment paper. Remove and separate biscuits and place them an inch or two apart on the parchment.
Pour the cooking oil into a medium or large pot and heat over medium to medium high heat until the oil reaches a temperature of 350 degrees F.
Carefully lower one or two biscuits into the oil to begin frying. Cook for 1-2 minutes or until the underside of the donuts are golden brown. Flip donuts with a fork or pair of tongs and repeat cooking 1-2 minutes on the other side.
Remove donuts and place on a paper-towel lined plate to drain the oil. Repeat frying one-two donuts at a time until all donuts are cooked. While the donuts are cooling, make the filling:
In a mixing bowl, combine the pudding mix and heavy cream until smooth and set aside to thicken. It will become very thick!
Next, make the glaze:
In a small, microwave safe bowl, heat the Nutella for about 20 seconds or until softened, but not hot. You should be able to stir it easily with a spoon.
Sift the powdered sugar into a mixing bowl, then add the Nutella, salt, and milk. Mix with a whisk until smooth and combined.
Fill and top the donuts:
Fit a piping bag with a Bismark tip or cream piping nozzle, and fill the bag with the pudding mixture.nsert the piping tip into one edge of each donut and squeeze gently to fill the donuts with the pudding.
After filling the donuts, gently dip each one into the Nutella glaze and allow the excess to run off.
Set the glazed donuts on your prepared baking sheet and serve immediately.