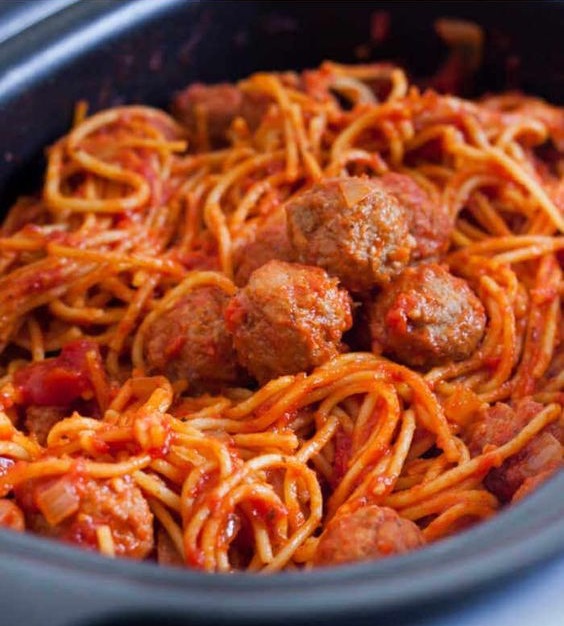 INGREDIENTS:
Crockpot Spaghetti
FOR THE MEATBALLS
1 lb. ground beef
1/4 c. bread crumbs
1/4 c. freshly grated Parmesan
1/4 c. freshly chopped parsley
1 large egg, beaten
2 cloves garlic, minced
1 tsp. kosher salt
1/2 tsp. crushed red pepper flakes
FOR THE SAUCE
2 (28-oz.) cans crushed tomatoes
2 tbsp. tomato paste
1/2 yellow onion, finely chopped
2 tsp. dried oregano
1 clove garlic, minced
Kosher salt
Freshly ground black pepper
Red pepper flakes
1 1/2 c. low-sodium chicken broth
3/4 lb. spaghetti
Grated Parmesan, for garnish
Freshly chopped parsley, for garnish
DIRECTIONS:Crockpot Spaghetti
Make meatballs: In a large bowl, mix together ground beef, bread crumbs, Parmesan, parsley, egg, salt, and crushed red pepper flakes. Form into 16 meatballs and place in the bottom of a Crock Pot.
In another large bowl, mix together crushed tomatoes, tomato paste, onion, oregano, and garlic. Season with salt, pepper and a pinch of red pepper flakes. Pour sauce over meatballs. Cover Crock Pot with lid and cook on high for 3 hours or on low for 5 hours.
Add broth spaghetti to Crock Pot, breaking noodles in half to fit and stirring to coat noodles. Replace lid and continue cooking on low for 1 1/2 hour more hours, stirring about every 30 minutes and breaking up any clumps of noodles and adding more broth as needed.
Garnish with Parmesan and parsley before serving.