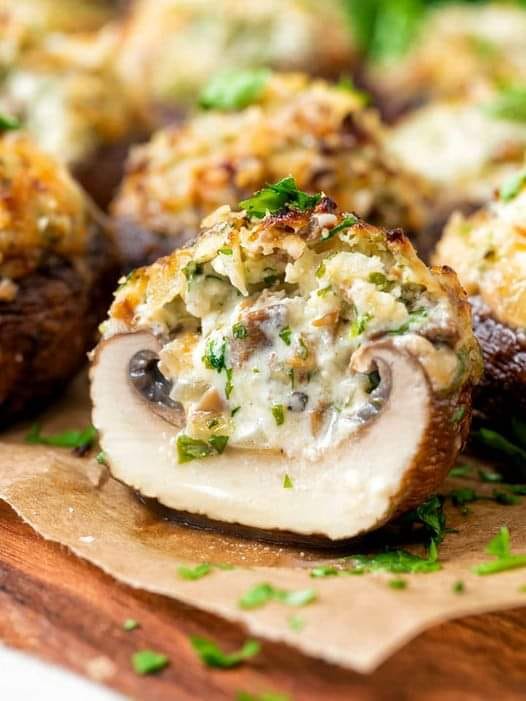 Ingredients:
These Air fryer cream cheese stuffed mushrooms are everyone's favorite appetizer!
20 baby bell or cremini mushrooms
2 tablespoons butter
1/2 medium onion, finely diced
2 garlic cloves, minced
1/2 teaspoon kosher salt
1/4 teaspoon freshly ground black pepper
4 ounces cream cheese, softened
1/3 cup freshly grated parmesan cheese, grated
2 tablespoon panko breadcrumbs
1/4 cup finely chopped fresh parsley, plus more for garnish
Instructions:
These Air fryer cream cheese stuffed mushrooms are everyone's favorite appetizer!
Air Fryer Instructions
First, wipe the mushrooms with a damp paper towel to clean. Next, remove the stems from the mushrooms, finely chop them, and set aside.
When the mushrooms are ready, melt the butter in a medium skillet over medium heat.
Next, add the chopped mushroom stems and cook for about 5 minutes or until most of the moisture is gone.
Add the onion, garlic, salt, and pepper and then cook for another 1 to 2 minutes or until the onion has softened.
Transfer the mushroom mixture to a mixing bowl and then let it cool slightly.
Add the cream cheese, parmesan (reserve 1 tablespoon), and parsley to the mixing bowl and then stir until well combined.
Next, fill the mushroom caps with the cheese filling and evenly sprinkle the tops with the reserved parmesan and the panko breadcrumbs
Spray the air fryer basket with olive oil or a nonstick cooking spray and then place the stuffed mushrooms in the basket.
Spray evenly with another coating of cooking spray and then cook in the air fryer at 390 degrees for 8 minutes.
Finally, carefully remove the mushrooms from the basket and sprinkle some chopped parsley overtop before serving.
Baking Instructions
Baking creamy cheese stuffed mushrooms is very similar to placing them in the air fryer. First, you need to follow the steps for the air fryer including cleaning, removing the stems, preparing the stuffing, and then stuffing the mushrooms.
As you prepare the mushrooms, make sure to heat your oven to 400 degrees. Once you have the mushrooms prepared, you need to place them on a greased or non-stick pan.
Next, place the sheet in the oven and heat for 20 minutes before removing from the oven, topping with parsley, and then serving.
Notes
How to prepare mushrooms
When you make stuffed mushrooms, the key is to carefully remove the stems from the bottom.
First, you should use cool water to rinse off the debris and dirt from the mushrooms themselves.
Once you have the dirt off, you can use a spoon or knife to carefully remove the stem from the bottom of the mushrooms.
The underside of the mushroom cap should have a bit of a cavity to it. You don't want to dig into it too much because you may break the cap, which will make it impossible to use the cap for the recipe.