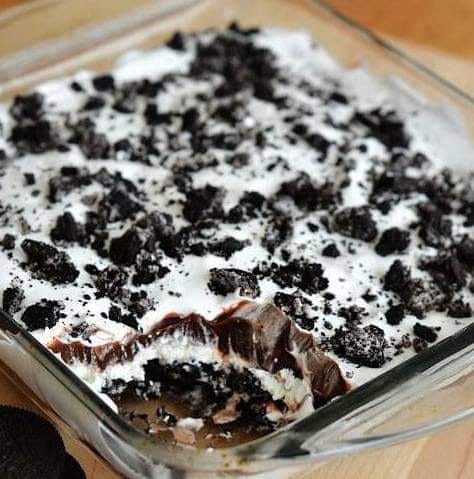 What you will need:
1 (15.35 ounce) package Double-Stuffed Oreo cookies
1/2 cup butter, melted
2 packages (3.9 ounce, each) Instant Chocolate pudding mix
3 1/4 cups cold milk
2 (8 ounce) containers Cool Whip
1 (8 ounce) block Cream cheese, softened
1 cup powdered sugar
How to Make It:Heavenly Oreo Dessert
Step1: Take a large zip-lock bag and place all the Oreo cookies inside. Step2: Seal bag shut and place on counter. Using a rolling pin, crush the cookies until they are small chunks/crumbs. You want them to still be chunky and small, but not fine crumbs.
Step3: Set aside half of the cookie crumbs for the topping. Pour the other half of cookie crumbs into a 9×13 baking pan. Pour the melted butter over the crumbs and mix well to combine. Once combined, press into the pan to form a crust.
Step4: In a bowl, whisk together the 2 pudding mixes and milk. Cover and place in fridge to set.
Step5: In a medium bowl, blend cream cheese until smooth. Slowly add in the powdered sugar. Fold in one container of Cool Whip.
Step6: Spread mixture over the cookie crust.
Step7: Next, take chocolate pudding and spread over the cream cheese mixture.
Step8: Spread the other container of Cool Whip over the chocolate pudding layer.
Step9: Sprinkle the top with the remaining cookie crumbs.
Step10: Cover and chill in fridge at least 2 hours before serving.