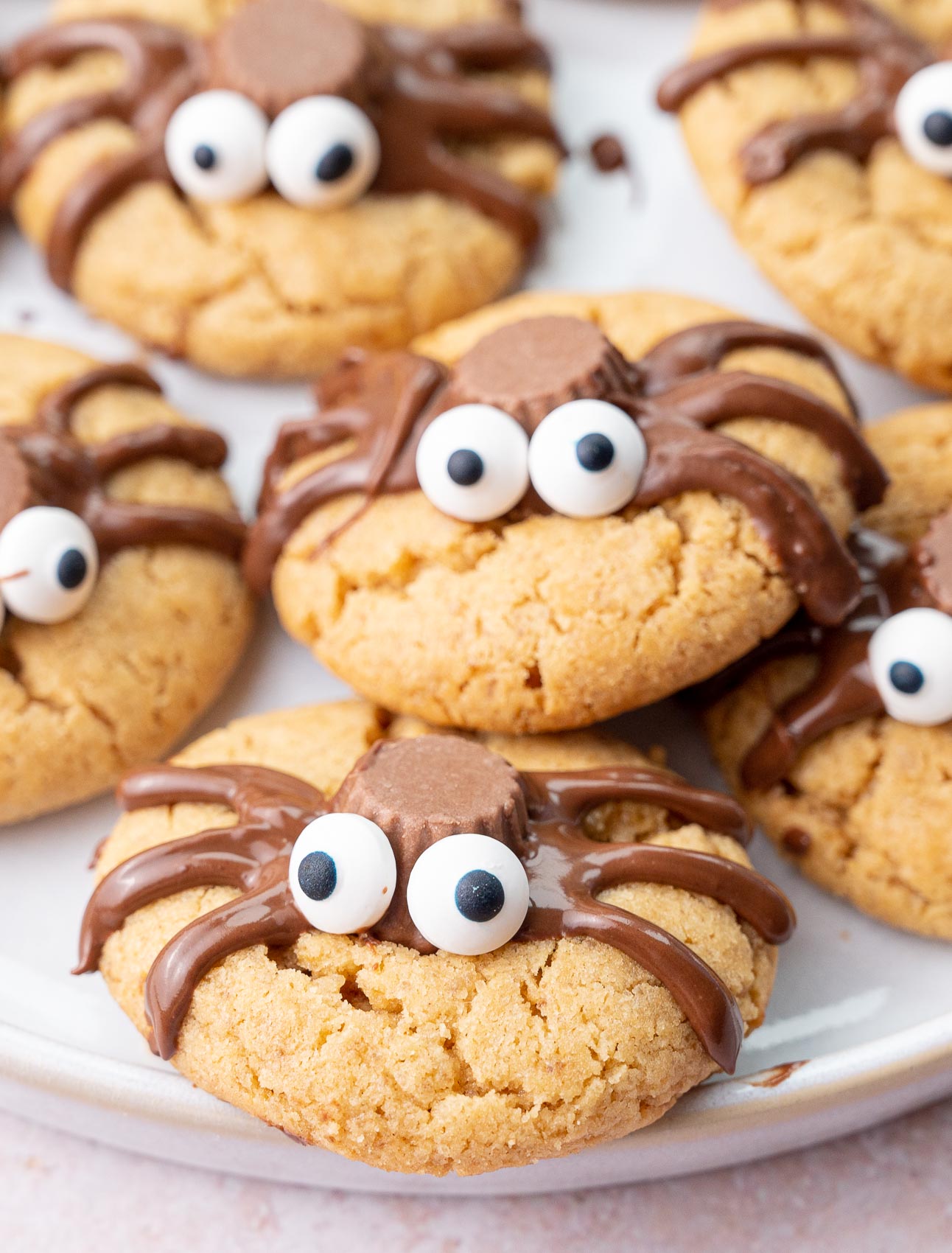 These spider cookies are not only fun and cute but also really delicious. Soft peanut butter cookies are topped with Reese's peanut butter cups and decorated with candy eyes and chocolate to resemble spiders. Your kids will be thrilled with these peanut butter
Ingredients:
for the peanut butter cookies:
▢1/2 cup (115g) soft butter
▢1/2 cup (130g) creamy peanut butter at room temperature
▢1/3 cup (65g) granulated sugar
▢2/3 cup (135g) light brown sugar
▢1 large egg
▢1 teaspoon vanilla extract
▢1 tablespoon milk
▢1 3/4 cups (220g) all-purpose flour spooned and leveled not scooped
▢1 teaspoon baking soda
▢1/2 teaspoon fine sea salt
▢1/4 teaspoon cinnamon
additionally:
▢36 Reese's Minis unwrapped (peanut butter cups) or Lindt Lindor candy truffles
▢72 candy eyes
▢4 oz (115g) baking milk chocolate or chocolate chips
Instructions:
Start with melting the chocolate: chop the chocolate into small pieces and place in a heat-proof bowl. Place the bowl on a small pot filled with boiling water. Let stand for a minute then stir until the chocolate is melted. Set aside to thicken a bit (you can put it in the fridge for 5-10 minutes). The chocolate should still be pourable but not as runny as just melted (it will be easier to pipe).
Place Reese's peanut butter cups in the fridge (unwrapped).
Preheat the oven to 350°F (180°C).
Add soft butter and room temperature peanut butter to a mixing bowl. Mix with a hand mixer or a stand mixer fitted with a paddle attachment for about 1-2 minutes or until smooth (scrape the sides of the bowl with a spatula if needed).
Add both types of sugar and mix for a further 2-3 minutes or until well-combined and paler in color.
Add egg, vanilla, and milk. Mix for a minute or until well-combined.
In a medium bowl, whisk together flour, salt, cinnamon, and baking powder.
Add the flour mixture to the mixing bowl. Mix at low speed until almost combined. Stir the mixture with a spatula until combined. Don't stir it for too long, just until combined and you see no white streaks of flour.
Prepare 3 baking sheets lined with parchment paper.
Roll the cookie dough into 1-inch (2-3 cm) balls and place apart on the baking sheet.
Bake for about 13 minutes.
The cookies will be completely soft right after baking. Leave them on the baking sheet for about 5 minutes or until they can hold their shape and be picked up. Transfer them on a flat spatula to a cooling rack and leave for a couple of minutes until cooled down a little bit but not completely – they should be still a little bit warm.
Place one peanut butter cup in the center of each cookie. The residual heat from the cookies should melt the bottom of the peanut butter cups so that their bottom melts just slightly and "glues" itself to the cookie. The cookies can't be very warm or the peanut butter cups will melt too much. On the other hand, if your cookies are too cold, the peanut butter cups won't melt and stick to the cookies – in that case, spread a small amount of melted chocolate on the bottom of each peanut butter cup and place on top of the cookies.
Pipe spider's legs on the cookies: Cut off a corner in a plastic bag, place a small round piping tip in the bag (optional but it makes piping easier), pipe 6 "legs" around the peanut butter cups to resemble spider's legs. Use a small amount of chocolate to "glue" the candy eyes to peanut butter cups to resemble spider's "eyes".
Leave the cookies for 10-15 minutes or until the chocolate is set (you can also put them in the fridge to speed up this process for 5-10 minutes).
Enjoy!