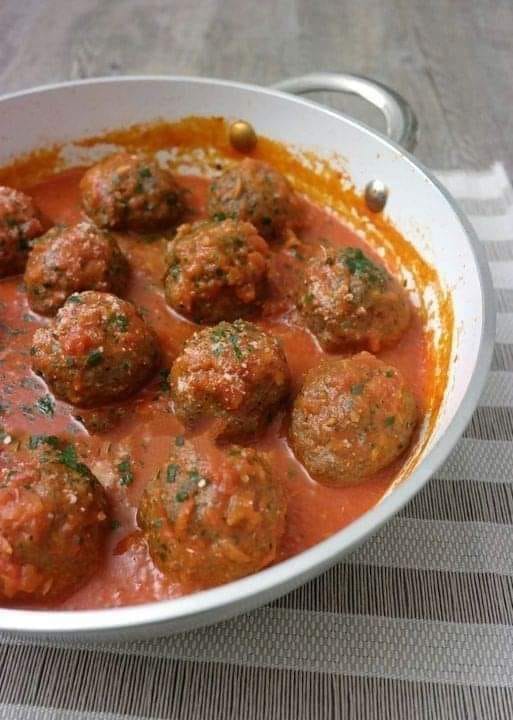 Ingredients
(for a dozen dumplings)
– 2 cloves garlic
– 500 g ground beef
– 50 g of grated parmesan
– 20 g of breadcrumbs
– 50g of milk
– 1 egg
– 1 onion
– 2 tbsp. at s. olive oil
– 1 small can of tomatoes
– Parsley
– Salt pepper
Preparation:
Preheat the oven to 200°.
Meatballs: In the bowl of the Thermomix, put the peeled garlic cloves. Blend for 5 seconds, speed 5. Scrape down the sides of the bowl. Add ground beef, parmesan, breadcrumbs, milk, egg and parsley. Season with a level teaspoon of salt and pepper. Blend for 30 seconds, speed 4. Form a dozen meatballs by rolling them between the palms of your hands. Place them on a baking sheet lined with parchment paper. Bake for 15 minutes.
The tomato sauce: Meanwhile, peel the onion and put it in the cleaned Thermomix bowl. Program 5 seconds, speed 5. Add the oil and cook for 2 minutes, 100°, speed 2. Then pour the contents of the can of tomatoes into the bowl and add the equivalent of half a can of water. Season with salt and pepper and cook for 5 minutes, 100°, speed 3 (watch out for tomato splashes!)
In a large skillet, place the pre-cooked meatballs and coat them with the tomato sauce. Leave to simmer for 20 minutes, regularly basting the meatballs with the sauce so that they don't dry out. Just before serving, sprinkle the dish with parmesan and parsley and serve with pasta or a green salad.
Enjoy