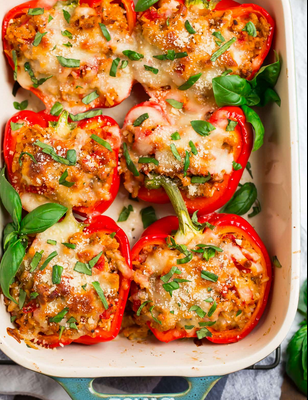 Ingredients:
4 large red bell peppers
2 teaspoons extra virgin olive oil
1 pound ground chicken or turkey
2 teaspoons Italian seasoning
1 teaspoon garlic powder
1/2 teaspoon kosher salt
¼ teaspoon red pepper flakes or up to
½ teaspoon if you like more spicy
1 can no salt added diced tomatoes with juices, 15 ounces
1 1/2 cups cooked brown rice farro, quinoa, cauliflower rice, or orzo (if using orzo, undercook it slightly)
1 cup shredded Mozzarella provolone (or a mix)
½ cup Parmesan divided
2 tablespoons chopped fresh basil
Instructions:
Preheat your oven to 375 degrees F. Lightly coat a 9×13-inch baking dish with nonstick spray. Slice the bell peppers in half from top to bottom. Remove the seeds and membranes then arrange cut side up in the prepared baking dish. Heat the olive oil in a large, nonstick skillet over medium high heat. Add the chicken, Italian seasoning, garlic powder, salt, and red pepper flakes. Cook, breaking apart the meat, until the chicken is browned and cooked through, about 4 minutes. Drain off any excess liquid, then pour in the can of diced tomatoes and their juices. Let simmer for 1 minute. Remove the pan from the heat. Stir in the rice (or farro) and ½ cup of the Mozzarella and ¼ cup of the parmesan. Mound the filling inside of the peppers, then top with the remaining cheeses. Pour a bit of water into the pan with the peppers—just enough to barely cover the bottom of the pan. Bake uncovered for 30 to 35 minutes, until the peppers are tender and the cheese is melted. Top with fresh basil. Serve hot.