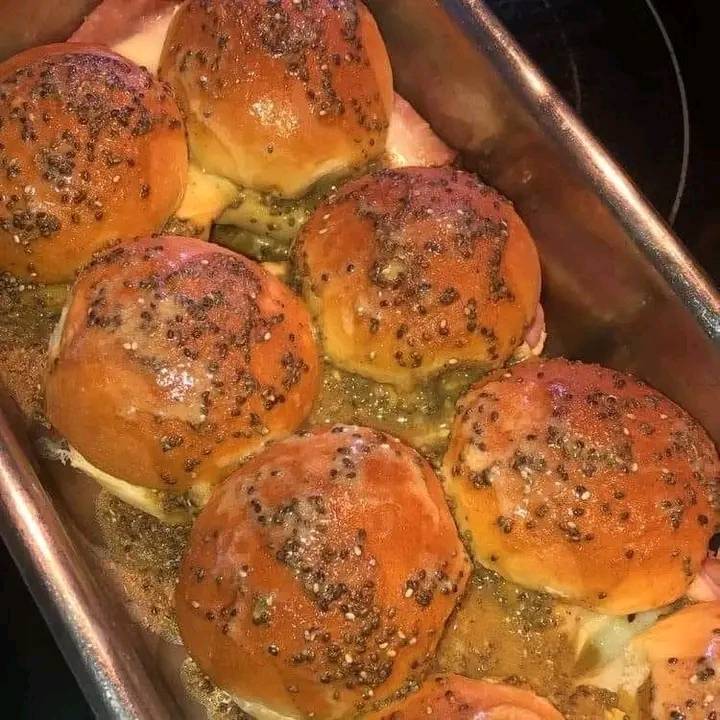 Ingredients:
 3/4 pound Eckrich Ham Off the Bone deli meat sliced
 12 sweet slider buns
 24 slices swiss, provolone or pepper jack cheese your choice
For The Glaze:
 1 stick butter
 2 tbsp. light brown sugar
 1 tbsp. dijon mustard
 1 tbsp. poppy seeds
 1 tsp. onion powder
 1 tsp garlic powder
 2 tsp. worcestershire sauce
 1/4 tsp. salt
 1/4 tsp. black pepper
Instructions:
Lightly coat a 9×13 inch dish with cooking spray. Cut the slider buns in half like a sandwich (all together, do not break into individual sliders yet).
Place the bottom layer into the prepared dish. Add half of the cheese on top.
Follow with a layer of ham, then the remaining cheese. In a small microwave-safe bowl, melt the butter.
Whisk in brown sugar, dijon, poppy seeds, onion powder, garlic powder, Worcestershire, salt & pepper.
Brush this mixture over the tops of the rolls. Pour any remaining mixture to coat thoroughly.
Cover with aluminum foil. Bake at 350 degrees for about 20 minutes.
Remove the foil & continue baking for an additional 10 minutes. Remove & serve immediately.