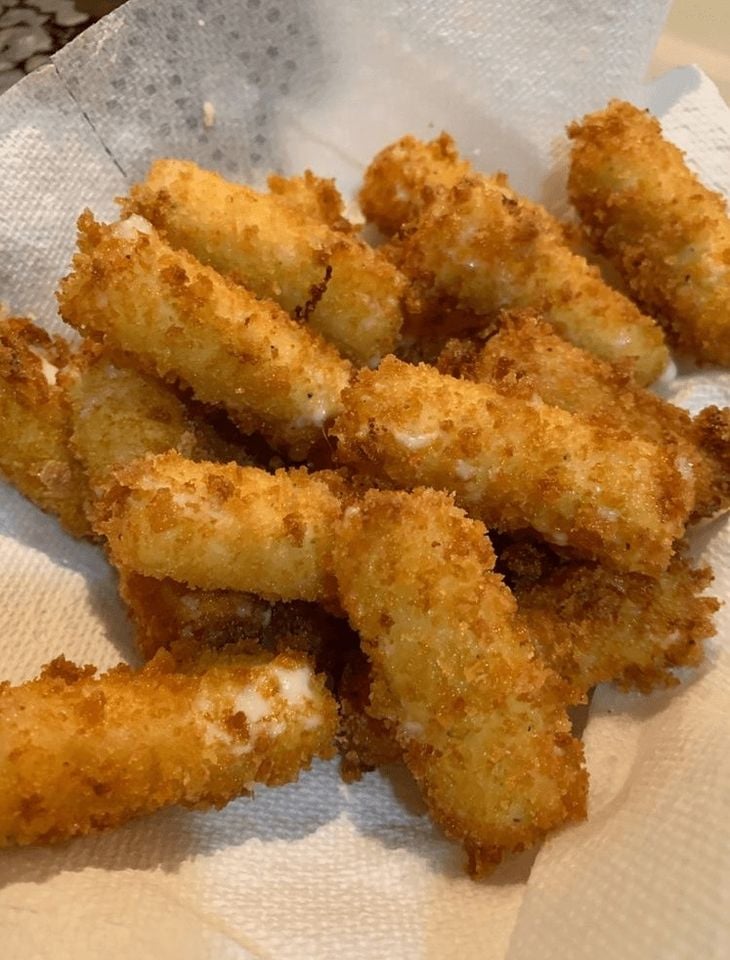 Ingredients:
2 large eggs, beaten
¼ cup water
1 ½ cups Italian seasoned bread crumbs
½ teaspoon garlic salt
⅔ cup all-purpose flour
⅓ cup cornstarch
2 cups oil for frying, or as needed
1 (16 ounce) package mozzarella cheese sticks
Directions:
-Whisk water and eggs together in a small bowl. Mix bread crumbs and garlic salt together in a medium bowl. Blend flour and cornstarch together in a third bowl.
-Heat oil to 365 degrees F (185 degrees C) in a large, heavy saucepan.
-Dredge a mozzarella stick in flour; shake off excess. Dip into egg mixture. Lift up so excess egg drips back in the bowl. Press into bread crumbs to coat. Place breaded mozzarella stick on a plate or wire rack. Repeat with remaining mozzarella sticks.
-Use a spider spoon or a pair of tongs to lower 3 to 4 mozzarella sticks into the hot oil. Fry until golden brown, about 30 seconds. Remove from heat and drain on paper towels. Repeat to fry remaining mozzarella sticks.