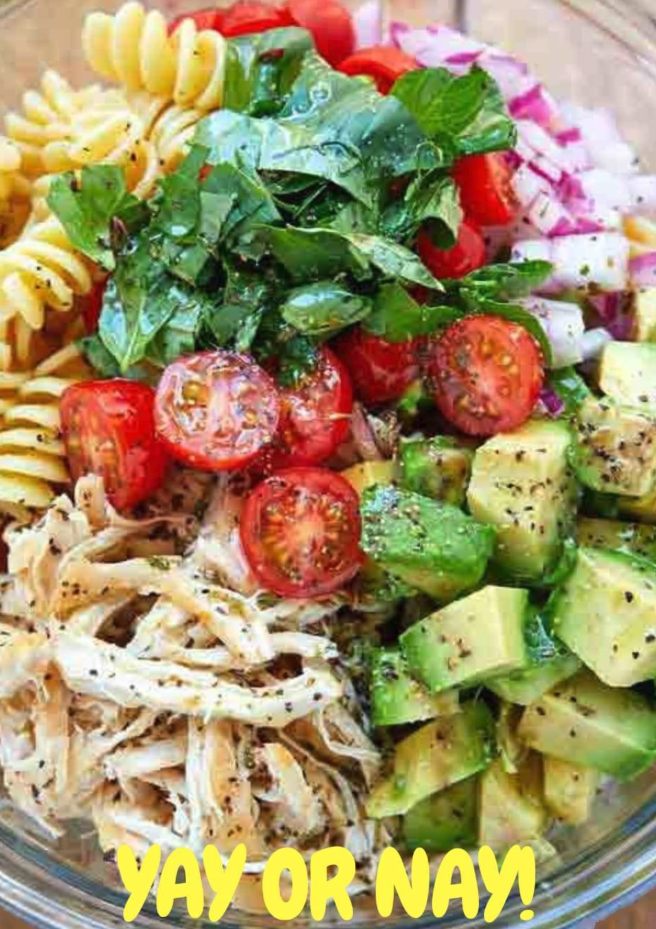 Ingredients:
2 ripe avocados pitted and diced
2 medium cooked chicken breasts, shredded or chopped (we used rotisserie chicken)
1/2 cup chopped red onion
1 pound cooked rotini pasta or similar
1 cup cherry tomatoes, halved
Salt and fresh cracked pepper, to taste
1/2 cup freshly chopped basil
Dressing:
1 tablespoon Italian seasoning
Salt and pepper to taste
3/4 cup extra virgin olive oil
1/2 cup white wine vinegar
Instructions:
1: In a large bowl, add salad ingredients, shredded chicken, avocado, cherry tomatoes, onion, and basil.
2: In a jar, mix the ingredients for the dressing: Italian seasoning, vinegar, olive oil, pepper, and salt.
3: Sprinkle your salad with the dressing. Mix gently until all ingredients are combined. Serve the chicken pasta salad immediately or refrigerate for later. Enjoy!