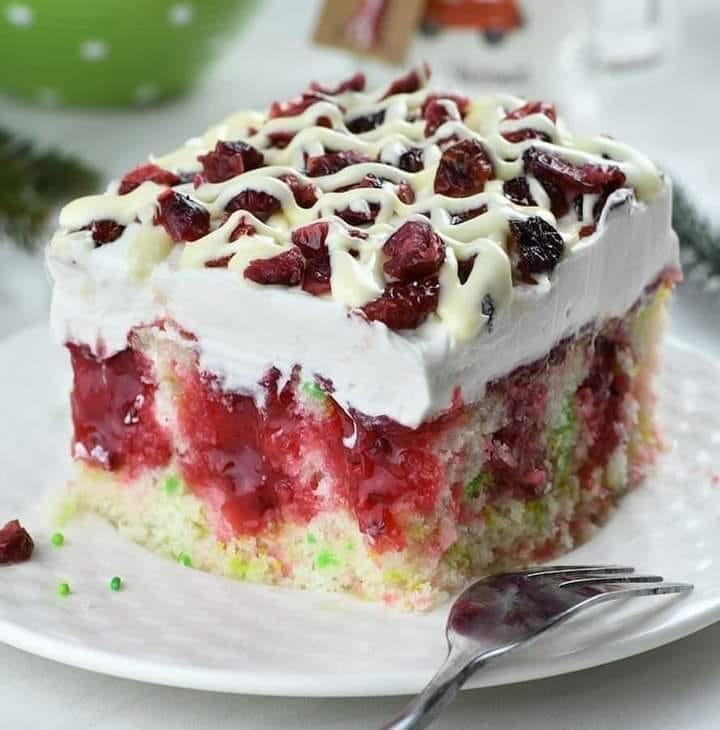 Ingredients:
Cranberry Sauce:
•12 oz. fresh or frozen cranberries
•1 cup freshly squeezed orange juice
•1 cup + 2 Tablespoons sugar
•¼ teaspoon cinnamon-optional
•Dash of ginger and nutmeg-optional
•2 Tablespoons corn starch dissolved in 2 ½ •Tablespoons water
Cake:
•16.25 oz. box white cake mix (plus ingredients listed on the box)
•1 Tablespoon red sprinkles
•1 Tablespoon green sprinkles
Frosting:
•8 oz. cream cheese-softened
•1 cup powdered sugar
•1 ½ teaspoon vanilla extract
•2 ½ cups whipped topping like Cool Whip ( or 1 ¼ cups heavy whipping cream)
Garnish:
•3.5 oz white chocolate-finely chopped
•1 Tablespoon coconut oil
•1/3 cup dried cranberries
Instructions:
Cranberry Sauce:
In a large saucepan place frozen cranberries, sprinkle with sugar, and set aside for a few minutes.
Then add freshly squeezed orange juice and stir well. You can add a dash of ginger and nutmeg and some ground cinnamon to your taste. Bring the mixture to a boil over medium-high heat, stirring frequently. Simmer for about 8-10 minutes until the cranberries burst and soften completely and some of the liquid evaporate.
Then add a corn starch slurry, whisk in, and cook for a few more minutes to thicken. It should have pudding-like consistency. Set aside to cool slightly.
You can break the cranberries completely with a potato masher or pulse the sauce in a food processor. But you can leave it with small chunks of cranberries if you prefer. When the sauce is done, let it cool on the counter while you make the cake.
Cake:
Preheat the oven to 350 F. Spray 9×13 inches dish with baking spray and set aside.
Prepare the cake according to the instructions listed on the box.
Stir the sprinkles gently into the cake batter and pour it immediately into greased dish and bake. Do not stir too much to avoid coloring the batter.
When the cake is baked, cool it for just a few minutes then using a handle of a wooden spoon poke the cake making the holes about an inch apart, and do not poke it all the way to the bottom, just about 2/3 of the height. Set aside for 15-20 minutes to cool.
Then using a spoon or a jug fill the holes with cranberry sauce and spread the remaining sauce on top. Chill the cake in the fridge for at least 4 hours or preferably overnight.
Frosting:
Beat softened cream cheese until smooth and creamy, then mix in powdered sugar and vanilla
If using store-bought whipped topping fold 2 1/2 cups of topping into the cream cheese mixture. If you are making homemade whipped cream, beat heavy cream until stiff peaks form. Add it into the cream cheese mixture and mix to combine evenly.
Taste and add more powdered sugar if it is not sweet enough to your taste.
Spread the frosting over the chilled cake.
Garnish:
Sprinkle dried cranberries on top.
Next, melt finely chopped white chocolate with coconut oil. Transfer it in a ziplock bag and cut off the corner, drizzle over the cake. Store the cake in the fridge.