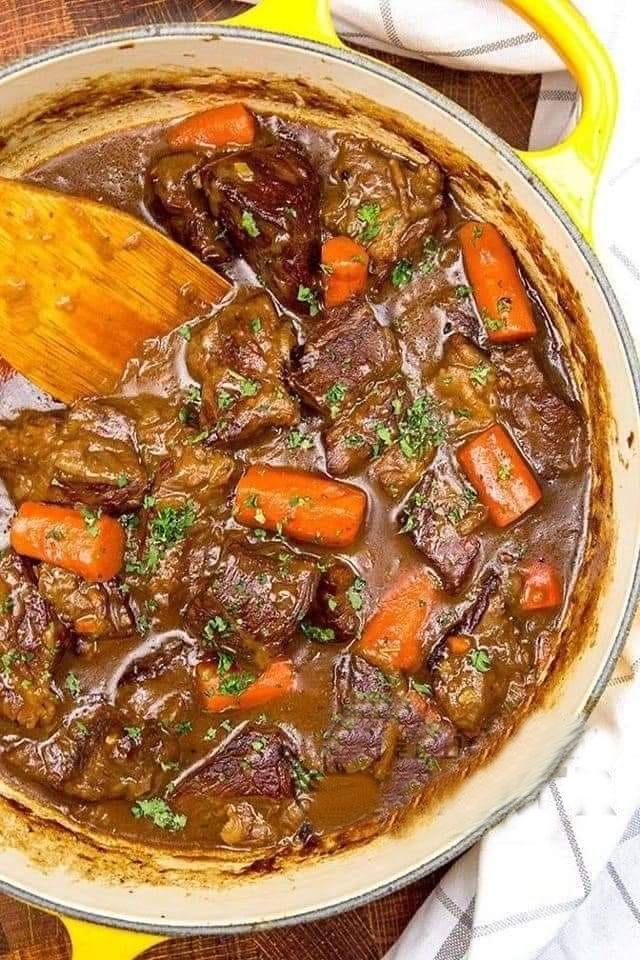 Ingredients:
3 pounds beef chuck roast, cubed
3 cups (750 ml) dry red wine (preferably Burgundy)
2 cups beef stock or broth
6 oz bacon, chopped into lardons
1 small onion, finely chopped
2 carrots, chopped
8 oz pearl onions, peeled
1 lb small cremini mushrooms
1/4 cup olive oil
3 cloves garlic, minced
3 tablespoons all-purpose flour
1 tablespoon tomato paste
1 bay leaf
1 sprig of thyme
Kosher salt and freshly ground pepper, to taste
Methods:
Preheat oven to 300°F.
In a large Dutch oven or heavy-bottomed pot, cook the bacon over medium-low heat until brown and crisp, about 10 minutes. Transfer to a medium bowl and set aside. (Don't drain Dutch oven.)
Pat beef dry and season liberally with salt and pepper. Working in batches, search beef on all sides until browned, 8-10 minutes. When beef is browned, transfer to bowl with bacon. Set aside.
Add chopped onions and carrot to Dutch oven and cook until soft, about 10 minutes. Stir in garlic and tomato paste and cook 2 minutes more. Stir in flour and cook for 1 minute before stirring in wine and beef broth. Add thyme and bay leaf, the browned beef and bacon.
Cover and transfer pot to the oven. Let cook 1 1/2 to 2 hours, until beef is very tender, stirring half way through.
Meanwhile, heat oil in a large skillet over medium heat. Add pearl onions and cook until soft and golden, about 5 minutes. Add mushrooms and cook until soft, 7 minutes more. Stir onions and mushrooms into stew, discard bay leaf and thyme sprig, and season with salt and pepper as needed. Serve and enjoy!