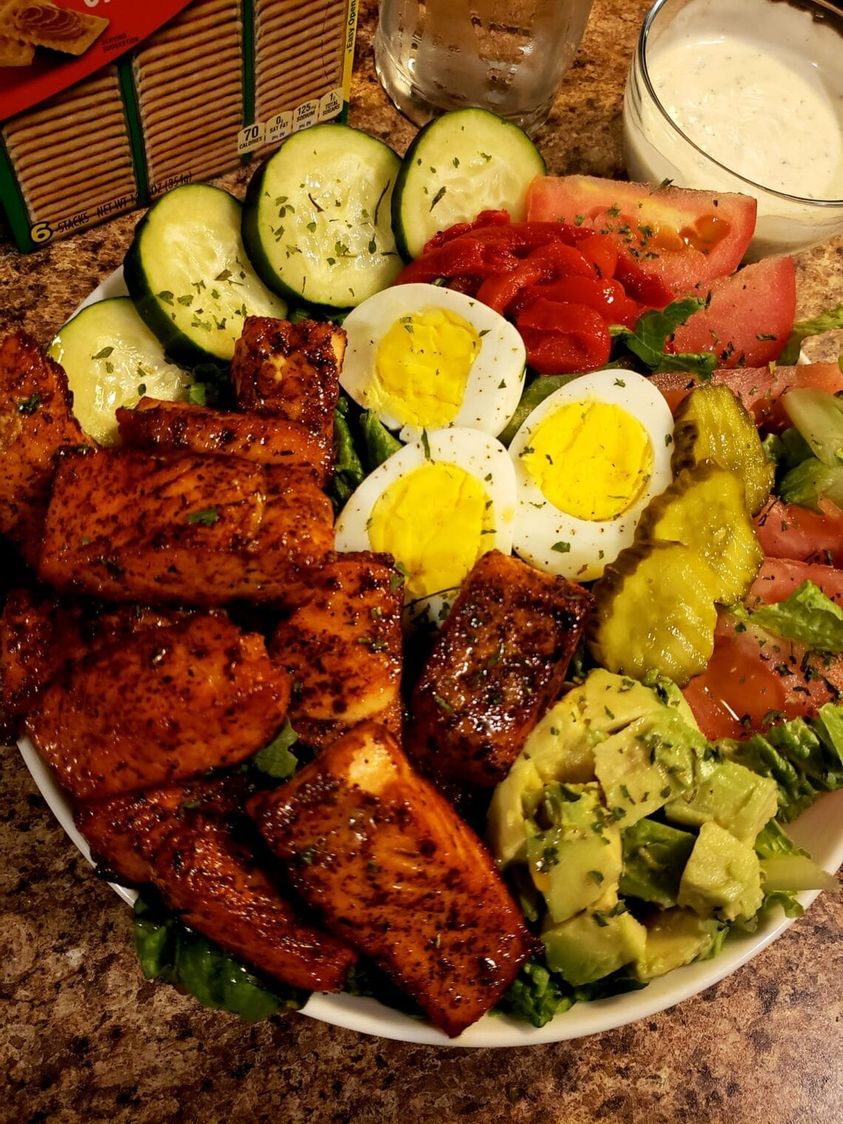 Ingredients:
4 Fresh Or Frozen Wild Caught Salmon Fillets
2 Tbsp Paprika
Pinch Cayenne Optional
1 Tbsp Onion Powder
1 Tbsp Garlic Powder
1 Tsp Dried Thyme
1 Tsp Dried Basil
1 Tsp Dried Oregano
1/2 Tsp Cracked Black Pepper
1 Tbsp Salt
2 Tbsp Melted Butter Or Ghee If Following The Whole 30 Diet
Lemon Cut In Half
Boiled Eggs Sliced Or Diced (Whichever You Like On Your Salad)
Avocado Same As Above
Tomatoes Same As Above
Spring Mix
THE Best Homemade Ranch Dressing Ever.
Instructions :Blackened salmon salad! 😍😍
Preheat The Grill (Or Pan On The Stove, If You'd Prefer)
Mix Dry Seasoning Together In A Bowl, And Generously Coat Both Sides Of The Salmon Fillets.
Grill The Salmon For About 3 Min Per Side, Or Until Fish Flakes With A Fork.
Baste On Both Sides With Butter (Or Ghee).
Squeeze Lemon Juice From The Lemon Halves On Each Fillet For A Little Extra Flavor.
Mix Together Greens, Tomatoes, Avocado, Boiled Egg And Then Add The Ranch Dressing.
Place The Salad Mixture In Four Individual Bowls, And Top Each Bowl With A Salmon Fillet.
Enjoy !!