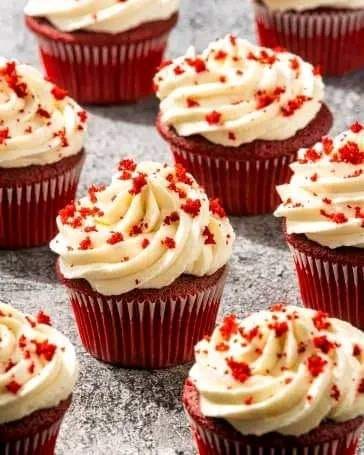 8 tablespoons
(1 stick) unsalted butter
1 1/2 cups
granulated sugar
2large eggs
1 ounce
liquid red food coloring (2 tablespoons)
1 tablespoon
distilled white vinegar
1 teaspoon
vanilla extract
2 1/2 cups
cake flour (see Recipe Note)
3 tablespoons
unsweetened cocoa powder
1 teaspoon
baking soda
1 teaspoon
kosher salt
1 cup
buttermilk
For the cream cheese frosting:
2 sticks
(8 ounces) unsalted butter
8 ounces
cream cheese
2 teaspoons
vanilla extract
1/4 teaspoon
kosher salt
4 1/2 to 5 cups
powdered sugar
Place 1 stick unsalted butter in the bowl of a stand mixer (or large bowl if using an electric hand mixer). Let sit at room temperature until softened, about 1 hour.
Arrange 2 racks to divide the oven into thirds and heat the oven to 350°F. Line 2 standard 12-well muffin pans with paper liners.
Add 1 1/2 cups granulated sugar to the bowl of butter. Beat with the paddle attachment on medium speed until light and fluffy, 3 to 4 minutes. Add 2 large eggs and beat until pale and smooth, about 30 seconds. Add 2 ounces red liquid food coloring, 1 tablespoon white vinegar, and 2 teaspoons vanilla extract, and beat until combined, about 15 seconds.
Place 2 1/2 cups cake flour, 3 tablespoons unsweetened cocoa powder, 1 teaspoon baking soda, and 1 teaspoon kosher salt in a medium bowl. Whisk to combine, making sure there are no clumps of cocoa powder.
Add 1/3 of the flour mixture to the butter mixture and beat on low speed until just combined. Add 1/2 cup of the buttermilk and beat until just combined. Beat in half of the remaining flour mixture, then the remaining 1/2 cup buttermilk. Finish beating in the remaining flour mixture until just combined. Divide the batter between the muffin wells, filling each well a little more than halfway full.
Bake until a toothpick inserted in the center of a cupcake comes out clean, 15 to 20 minutes. Let cool on wire racks for 5 minutes.