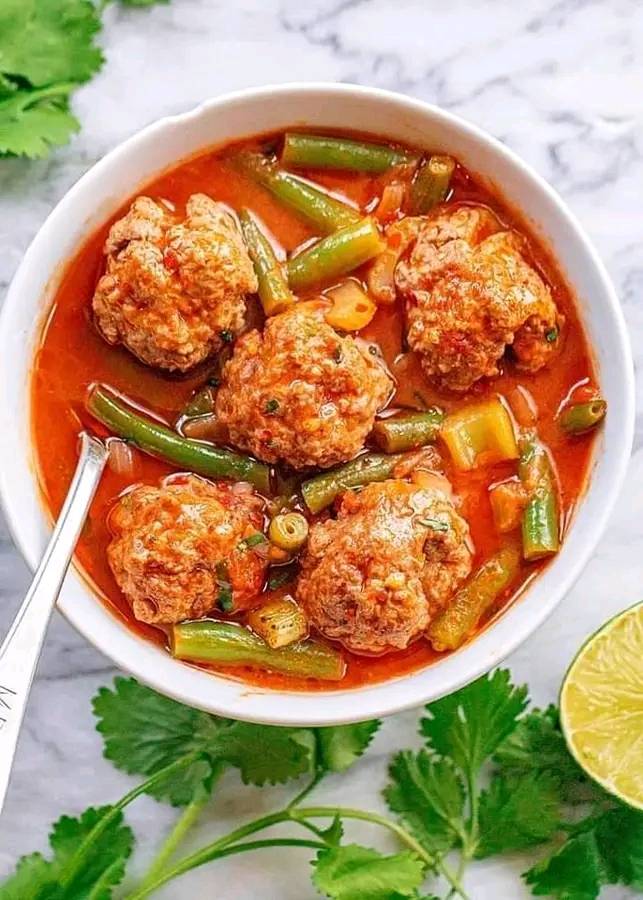 Ingredients:
2 tablespoons extra virgin olive oil
1 onion, chopped
1 large garlic clove, minced
1 celery stalk, cut into small chunks
2 teaspoon cumin, divided
8 cups (2 l) chicken stock or beef stock
4 cups (1 l) water
1/2 cup tomato sauce
1/2 pound green beans, trimmed and cut into pieces
1 pound ground beef
1/2 cup chopped fresh cilantro
1 egg
1 teaspoon salt
1/2 teaspoon black pepper
1/4 teaspoon of cayenne, optional
1 teaspoon of dried oregano
DIRECTIONS:
1. To make the Mexican meatball soup: Heat oil in a large pot or Dutch oven over medium heat. Add chopped onion and celery and cook until tender, about 3 minutes, stirring regularly. Add the minced garlic and cumin, and cook a minute more. Add stock, water, and tomato sauce. Bring to boil and reduce heat to simmer. Add the green beans.
2. In a large salad bowl, combine meat, cilantro, salt, pepper, cumin, and egg. Shape the beef mixture into 1-inch meatballs using a small cookie scoop.
3. Add the meatballs to the simmering soup, one at a time. Cover the pot and simmer for 1/2 hour.
4. Add a few pinches of oregano and adjust seasoning with salt and pepper, and a dash of cayenne if you like.
5. Ladle the Mexican meatball soup into bowls and garnish it with fresh chopped cilantro. Enjoy!