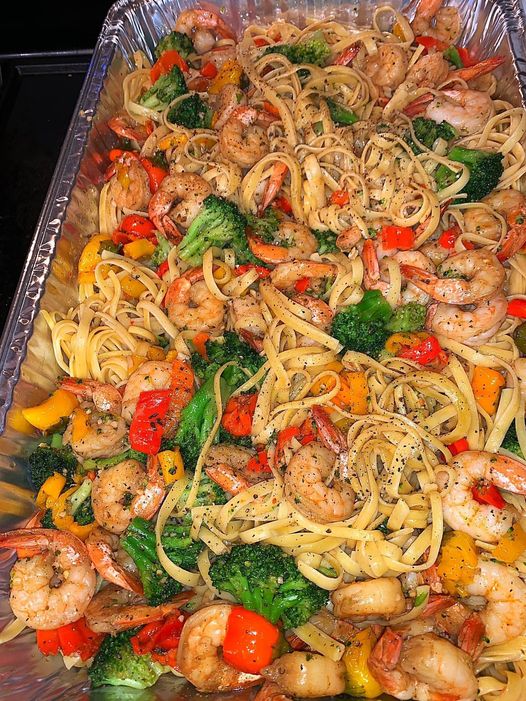 Cajun Shrimp Pasta tossed in a zesty lemon cream sauce with lots of veggies!
Crayons
INGREDIENTS
8-12 oz raw shrimp (fresh or frozen)
1 lb chopped broccoli florets
4 oz fettuccine pasta
1 cup corn, fresh, canned, or frozen**
3 TBSP unsalted butter* (divided)
1 tsp cajun seasoning blend, plus extra to taste
1 tsp minced garlic
1/4-1/2 salt to taste
1/4 tsp pepper
1/2 tsp regular paprika
1/8-1/4 tsp cayenne pepper for an optional kick of heat
1 lemon
1/2 or 3/4 cup heavy cream or half cream half milk
1/4 cup grated parmesan cheese plus extra for topping
optional garnish: fresh chopped parsley
INSTRUCTIONS:
Prep shrimp as needed (clean/peel/defrost). Tails may be left on or off depending on preference.
Slice your lemon in half. Juice half the lemon into a small bowl and cut the remaining half into wedges. Measure out all remaining ingredients.
Bring a pot of water to boil and add your pasta.
Boil pasta for 5 minutes, add broccoli florets, then cook an additional minute or so until pasta is al dente and your broccoli is bright green.
Pat shrimp dry and season on both sides with salt, pepper, cajun seasoning, paprika, and optional cayenne.
Heat a large pan or skillet to medium-high heat and add 1 TBSP butter.
Once butter is melted and pan is heated, add your shrimp and garlic.
If you're using fresh corn, add it with the shrimp. Using canned or thawed/frozen corn? Add it towards the end.
Saute until garlic is fragrant and shrimp is pink and opaque, approx. 4 minutes.
Transfer shrimp and garlic to a bowl, leaving the juices behind.
While the pan is still at medium-hot heat, add the juice of half your lemon and stir to release the brown bits from pan. Hello flavor!
Add the remaining butter and cream (start with 1/2 cup and add more as needed/desired) and any extra cajun seasoning to taste. Whisk until slightly thickened. Then add your broccoli, pasta, and parmesan cheese. Mix to coat then add the shrimp. Top with lemon wedges, optional parsley, and as much parmesan as your heart desires.
Serve immediately.
NOTES
* Using unsalted butter allows me to control the saltiness of the dish myself but if all you have is salted, fret not! Simply salt to taste at the end of the cooking process instead of during and you'll be good to go.
** Thaw corn if using frozen. Drain + rinse if using canned.
Nutrition Facts below are estimated using an online recipe nutrition calculator. Adjust as needed and enjoy!