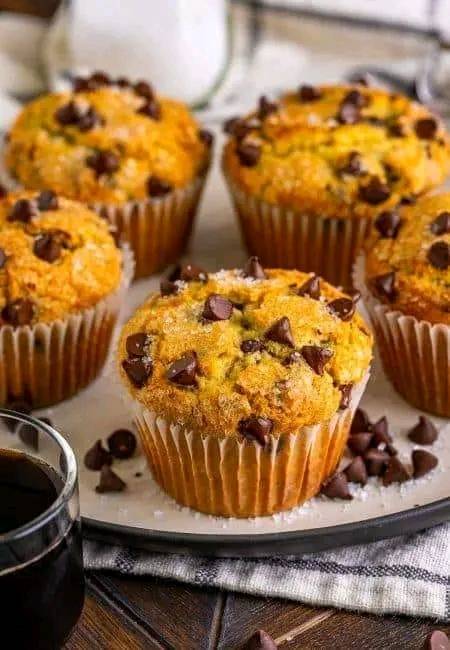 This recipe for Easy Chocolate Chip Muffins goes together in no time and bakes up perfectly domed with an irresistible crunchy sugar topping. Enjoying your favorite bakery treat at home in about 30 minutes?
Course Baked Good, Breakfast, muffins
Servings 6 muffins
Prep Time 10 mins
Cook Time 30 mins
Ingredients:
2 cups all-purpose flour
2 teaspoons baking powder
1/4 teaspoon fine sea salt
1/2 cup unsalted butter melted
1/2 cup granulated sugar
1/2 cup light brown sugar packed
2 large eggs
2 teaspoons vanilla extract
1/2 cup buttermilk
12 ounces semi-sweet chocolate chips
1 tablespoon decorator's sugar optional
Instructions:
Preheat the oven to 425°F. Using a jumbo muffin tin, line 6 sections with jumbo liners or spray the tin with baking spray, and set aside.
In a medium-sized bowl, stir together the flour, baking powder, and salt, set aside.
In a large bowl, whisk together the melted butter, granulated sugar, and light brown sugar until combined.
Whisk in the eggs and vanilla extract until smooth.
Add half of the flour mixture to the bowl and whisk it in until smooth. Add half of the buttermilk and whisk until smooth. Repeat with the remaining flour mixture and buttermilk until there are no dry patches.
Fold in the chocolate chips and divide the batter among the prepared muffin tin sections.
Add more chocolate chips on top for a pretty presentation. Sprinkle the decorator's sugar on top of each muffin.
Place the muffins in the oven for 5 minutes. Reduce the oven heat to 350°F and continue to bake for 25-30 minutes until a toothpick inserted into the center comes out clean. The muffins will have a nice domed top and be golden brown.
Let them cool in the pan for 10 minutes, then take them out and cool them completely on a wire rack. Best served warm or at room temperature, enjoy!