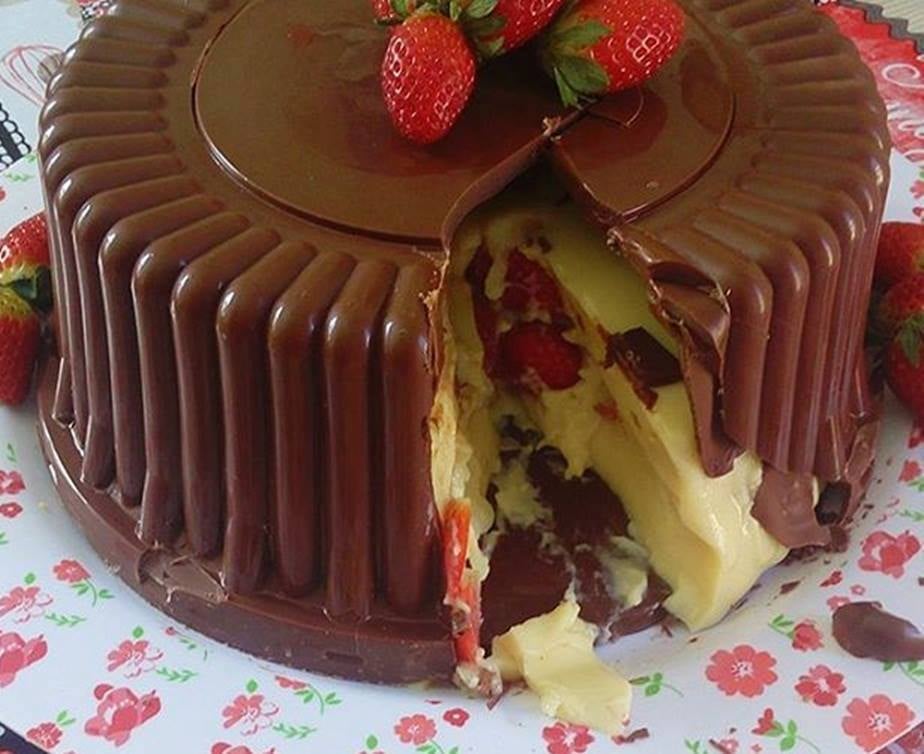 Ingredients:
5 cups milk (cold)
2 cans of condensed milk
1 tablespoon cornstarch (dessert)
4 gems
1 teaspoon(s) vanilla essence
1 sachet (24g) unflavored gelatin
5 tablespoons of water to hydrate the gelatin
2 boxes (350g each) of stemless strawberries
1 cup semi-sweet chocolate (chopped)
How to make:
Dissolve cornstarch in milk.
Transfer to a pan and add the vanilla, egg yolks and condensed milk.
Mix over low heat until slightly thickened.
Turn off the fire.
Dissolve the gelatin in the water and microwave for 15 seconds.
Pour the mixture into the pan and mix until you get a smooth cream.
Let it cool completely.
Melt the chocolate in the microwave or over a bain-marie.
Apply a layer inside the package.
Allow to dry at room temperature or 5 minutes in the refrigerator.
Pass another layer of chocolate and let it dry again.
Pour the cold cream up to half the height of the container.
Take it to the freezer for 15 minutes until it forms a resistant film.
Place the strawberries on the film and pour the rest of the cream on top.
Refrigerate for 5 hours or until fully set.
To unmold, place a plate over the cream part and turn the package over.
Run your hand to let air in.
Pull carefully.
If desired, cut with a hot knife.
Serve immediately.