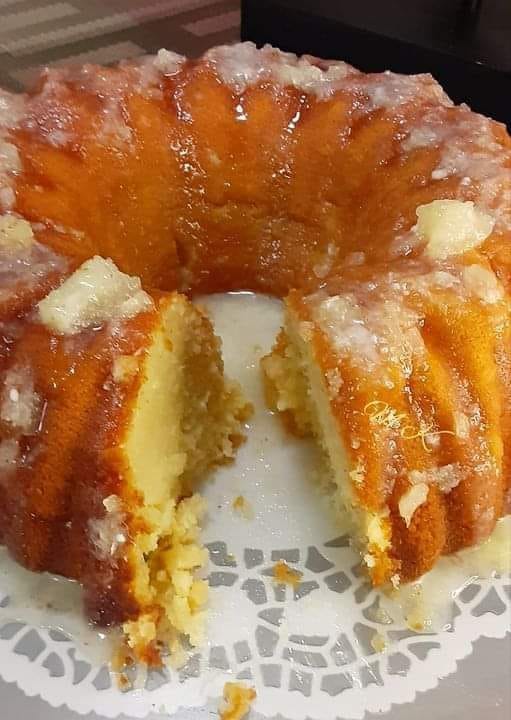 Ingredients
Pineapple Coconut Bundt Cake is an easy cake recipe that has a delicious blend of tropical flavors. This bundt cake is perfect for summer nights BBQs!
1 (20 ounce) can crushed pineapple, drained
2 tablespoons Land O Lakes® unsalted butter, melted
1/2 cup brown sugar
2 2/3 cup all purpose flour
1/3 cup corn starch
1 teaspoon baking powder
1/2 teaspoon salt
4 Half Sticks (1 cup) Land O Lakes® unsalted butter, softened
2 1/2 cups granulated sugar
6 large eggs
2 teaspoons vanilla extract
1 teaspoon coconut extract
1 1/3 cup unsweetened coconut milk
2 cups shredded coconut
Instructions:
Preheat oven to 350°F. Grease a 12 cup Bundt® pan.
In a small bowl, combine pineapple, 2 tablespoons melted Land O Lakes® butter and brown sugar. Evenly spread mixture in the bottom of the Bundt pan, set aside.
In a medium bowl, sift flour, cornstarch, baking powder and salt together. Set aside.
In a large bowl, beat butter and sugar until fluffy. Add the eggs one at a time until well mixed. Add vanilla extract and coconut extract.
Mix flour mixture into the batter alternating with the coconut milk. Gently fold in shredded coconut.
Transfer batter to the prepared Bundt® pan and bake until cooked through and the top is golden brown, about 1 hour and ten minutes.
Cool in cake pan for about 15 minutes then invert onto a cake plate. Serve warm or store in an airtight container until ready to serve.