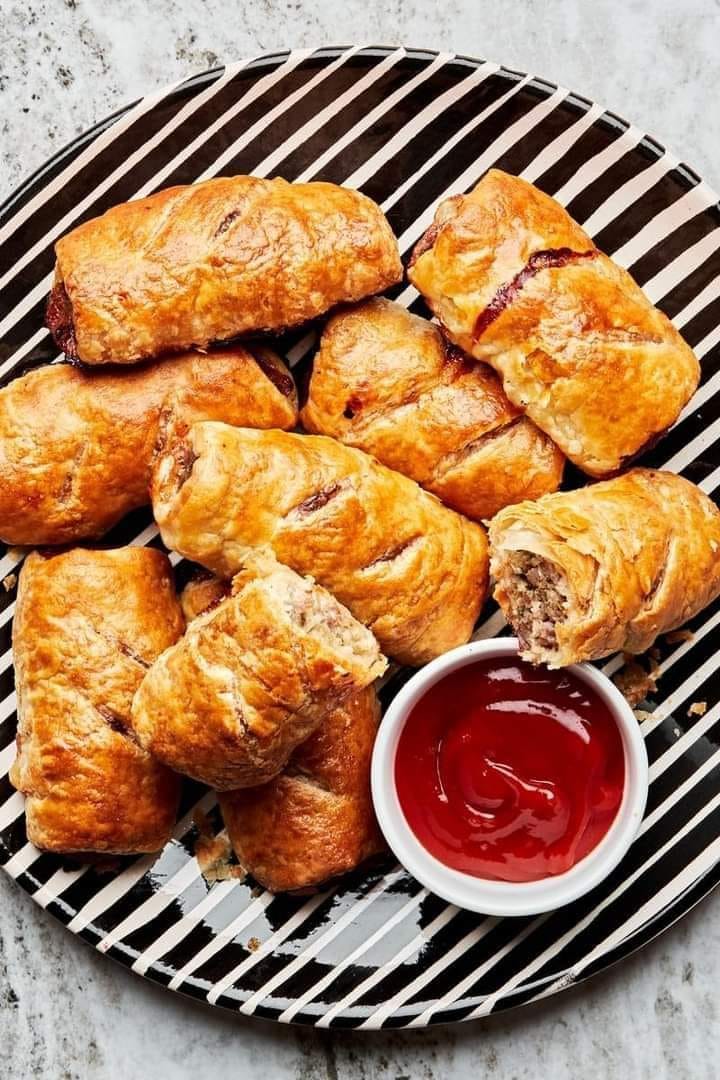 Ingredients:
1½ pounds ground pork sausage
2 teaspoons fennel seeds
½ cup freshly grated Parmesan cheese
4 tablespoons apple or pear chutney
2 tablepsoons finely chopped fresh sage
2 large eggs
half of an onion, grated
½ teaspoon kosher salt
½ teaspoon freshly cracked black pepper
2 sheets store bought puff pastry, thawed, chilled
ketchup for serving
Method:
Preheat the oven to 400°F with a rack in the center position. Line a large baking sheet with parchment.
In a large bowl combine pork, fennel, parmesan, chutney, sage, 1 egg, onion, salt, and pepper.
On a lightly floured surface, roll out the dough into two 8×10-inch rectangles. Halve lengthwise to create four 4×10-inch rectangles.
Divide the sausage mixture into 4 equal portions and place on the bottom half of each rectangle. Form sausage mixture into a long cylindrical patty the length of the pastry strip. In a small bowl, mix 1 tablespoon of water with the remaining egg. Brush the exposed pastry edges of each rectangle with ½ of the egg wash.
Roll the pastry over the sausage and gently press to seal the edges.
Cut each roll into 3 pieces each and arrange them on the prepared baking sheet, seam sides down. Brush the rolls with the remaining egg wash and cut two diagonal 1-inch slits into each.
Bake for 30-35 minutes or until the dough is golden brown.
Serve warm with ketchup for dipping or allow to cool completely before storing in an airtight container at room temperature for up to 3 days.
To freeze these sausage rolls:
Before finishing with the egg wash and cutting slits into the tops, you can opt to freeze the unbaked sausage rolls in an airtight, freezer-safe container. Store in the freezer for up to 3 months. When ready to bake, remove from the freezer, separate, and bring to room temperature. Brush with egg wash and create slits. Bake for 30-35 minutes at 400°F until golden brown