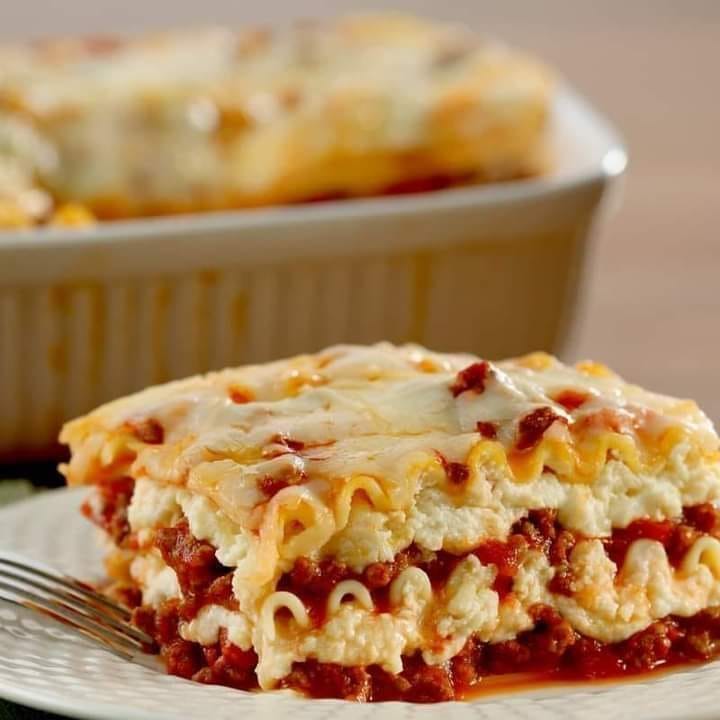 Ingredients:
2 (15-ounce) or 1 (32-ounce) container Dragone Whole Milk Ricotta Cheese
1 (16-ounce) package Dragone Mozzarella Cheese, shredded
1 (5 ounce) Shredded Parmesan Cheese cup
2 eggs, beaten
1 pound ground beef
1 (24–26 ounces) jar spaghetti sauce
1 cup beef broth or water
12 uncooked lasagna noodles.
Directions
Preheat the oven to 375°F.
Mix the Dragone Whole Milk Ricotta Cheese and eggs in a bowl. Stir in 3 cups of the Dragone Mozzarella Cheese and 3/4 cup of the Parmesan Cheese. Reserve the remaining Dragone Mozzarella Cheese and Parmesan Cheese.
Brown the ground beef over medium heat until it's no longer pink, about 10 minutes. Drain. Then season with salt and pepper, to taste. Stir in the spaghetti sauce and beef broth.
Spread 1 1/2 cups of the meat sauce in the bottom of a 13×9-inch glass baking dish. Top with 3 noodles lengthwise and place a 4th noodle crosswise, breaking it to fit. Layer 1 heaping cup of the meat sauce and 1/2 of the ricotta mixture. Repeat the layers once. Then, top with the remaining 4 noodles and remaining meat sauce.
Cover with aluminum foil and bake until the noodles are tender and the sauce is bubbly, about 50 minutes. Remove the foil, sprinkle with the reserved cheeses and bake again uncovered until the cheese is melted, about 10 minutes. Let it stand, loosely covered, 15 minutes before serving.