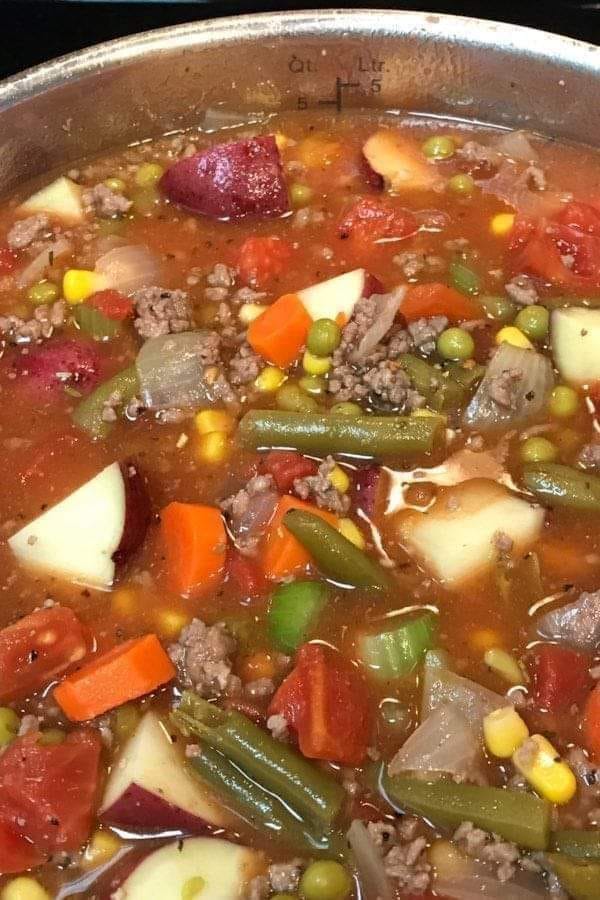 Ingredients
2 pounds ground beef
4 carrots, diced
4 celery ribs, chopped
1 onion, chopped
4 potatoes, peeled and cut into 1-inch pieces
1 (15.25 ounce) can whole kernel corn, drained and rinsed
1 (15 ounce) can green beans, drained and rinsed
1 (15 ounce) can peas, undrained
1 (15 ounce) can tomato sauce
1 (14.5 ounce) can whole tomatoes, crushed
ground black pepper to taste
1 bay leaf, or more to taste
⅛ teaspoon ground thyme
¼ cup water, as needed
Directions
Crumble ground beef into a stockpot over medium-high heat; cook and stir until beef is crumbly, evenly browned, and no longer pink, 7 to 10 minutes.
Drain and discard any excess grease.
Stir in carrots, celery, and onion; cook and stir until vegetables are soft, about 5 minutes.
Stir in potatoes, corn, green beans, undrained peas, tomato sauce, and crushed whole tomatoes.
Season with black pepper; add bay leaf and thyme.
Pour in 1/4 cup water if needed, replenishing as needed while cooking.
Bring soup to a simmer; cover and cook, stirring regularly, until potatoes are tender, about 1 hour.