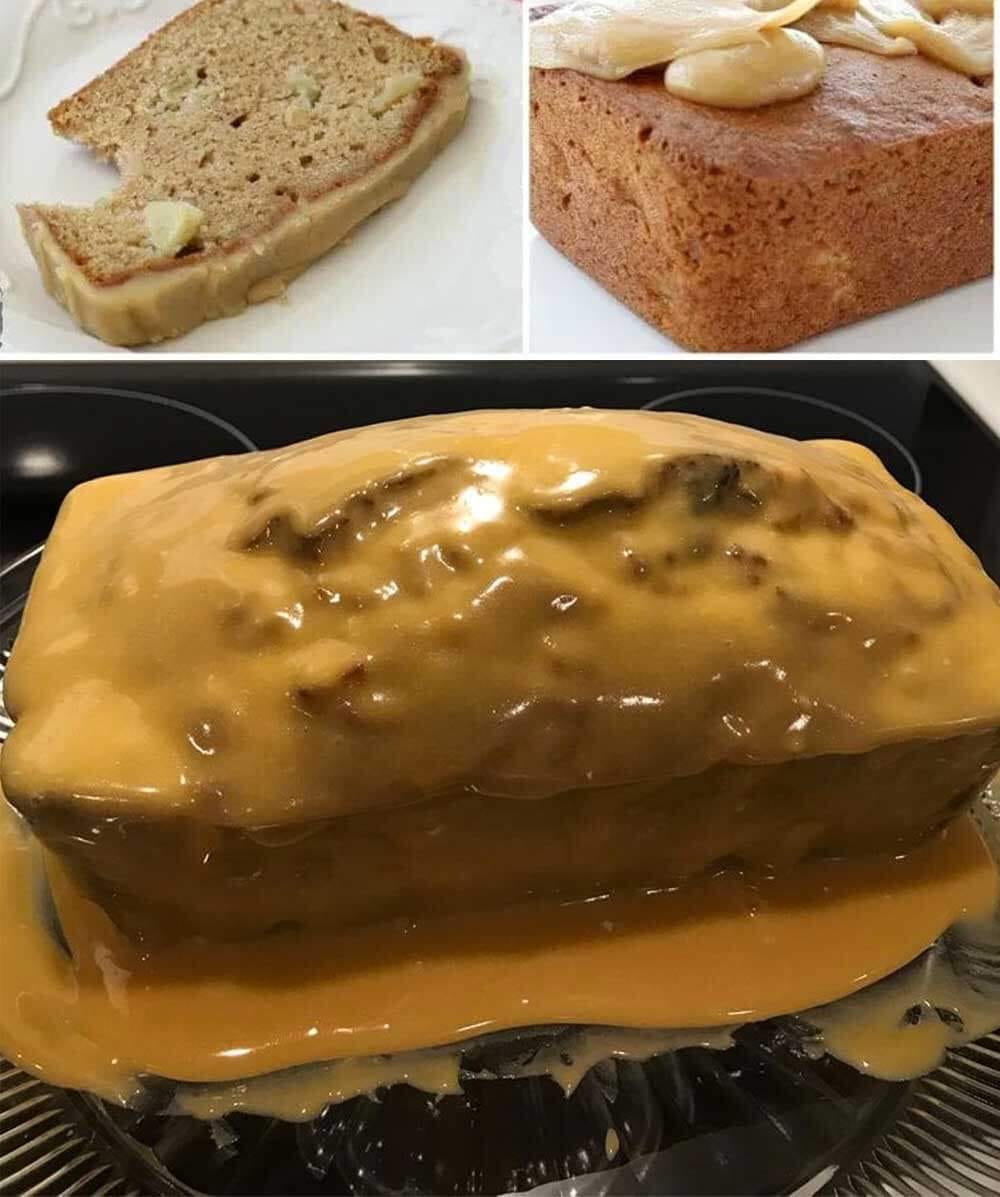 This Caramel Apple Bread is the perfect recipe for quick sweet bread this time of year. Use any type of apple that you'd like, although I love it with Pink Lady apples. This recipe is easy to make, but it does take some time as you need to cool the bread, then after you drizzle the glaze, you'll have to let the glaze set. It's well worth the wait though as this Caramel Apple Bread has incredible flavor!
Ingredients
1 cup smooth unsweetened applesauce
1/2 cup granulated sugar
1/2 cup packed light brown sugar
2 large eggs
1/4 cup canola or vegetable oil
1 teaspoon vanilla extract
2 cups flour
1 teaspoon baking powder
1/2 teaspoon baking soda
1/2 teaspoon salt
1/2 teaspoon cinnamon
1/8 teaspoon nutmeg
1 cup peeled cored, and finely diced apple (1 apple)
Caramel Glaze:
5 TBSP butter
3 TBSP caramel ice cream topping
1 1/2 cups powdered sugar
dash salt
Instructions
Spray a 9- by 5-inch loaf pan with non-stick spray, then set it aside.
Preheat the oven to 350°.
Combine the applesauce, sugar, brown sugar, eggs, oil, and vanilla extract in a large bowl.
Whisk well to blend.
Add in the flour, baking powder, baking soda, salt, cinnamon, and nutmeg. Stir just enough to combine; do not over mix.
Fold in the apples.
Transfer the batter into the prepared pan.
Bake on the center oven rack until a toothpick inserted into the center of the bread comes out clean, about 60 minutes.
Remove the pan from the oven and put it on a cooling rack for about 15 minutes, then remove the loaf from the pan and place it on the rack to finish cooling.
To make the caramel glaze topping: Melt butter in a small bowl. Whisk in caramel ice cream topping.
Add in powdered sugar, 1/2 cup at a time, whisking in between.
Once it's all added, whisk until smooth.
If caramel glaze is too thick to drizzle on the bread, put it in the microwave for 20 seconds.
Pour caramel over the top of the apple bread.
Let sit 1 hour, until caramel topping has set.
Slice and Enjoy! Store leftovers in an airtight container on the counter, or in the fridge.
Freeze bread by wrapping completely in plastic wrap twice, then wrapping with foil.
Freeze for up to 2 months.