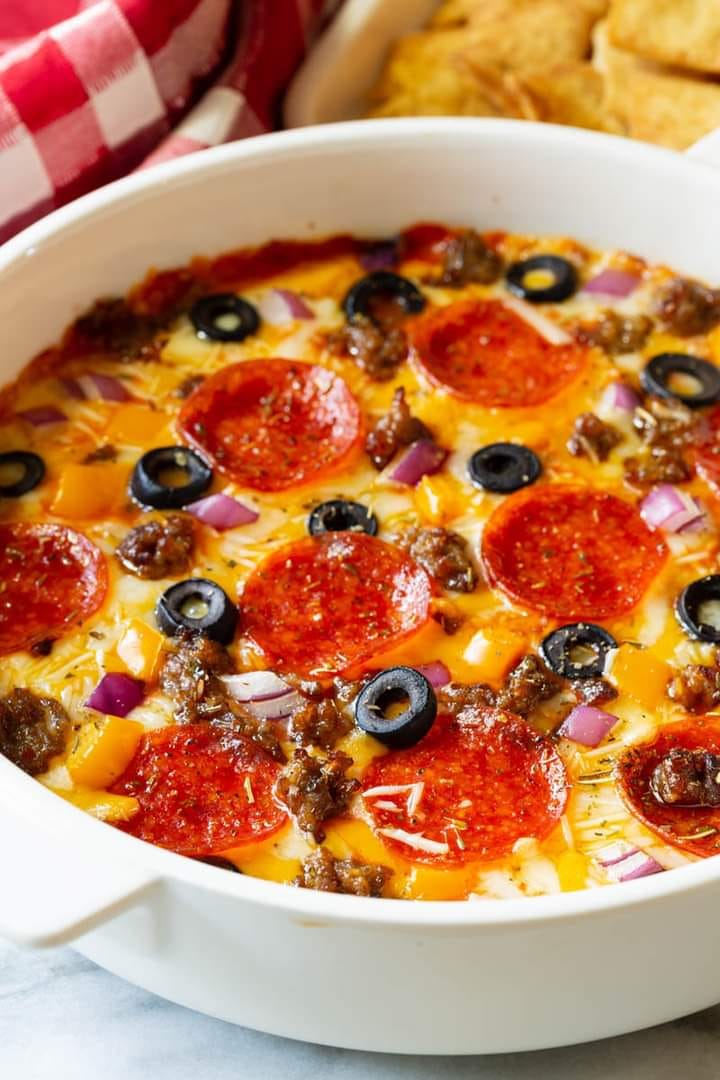 Ingredients :
8 ounces cream cheese softened
2 1/2 cups Italian blend shredded cheese
2 teaspoons Italian herb seasoning
1/2 teaspoon garlic powder
3/4 cup pizza sauce
10-12 pepperoni slices
1/3 cup cooked Italian sausage
3 tablespoons chopped bell pepper any color
3 tablespoons sliced black olives
2 tablespoons chopped red onion
Preparation :
Preheat the oven to 400 degrees F. Spray a round 8-inch baking dish (or 9-inch pie pan) with nonstick cooking spray.
In a medium bowl, mix the cream cheese with 1 cup shredded cheese, Italian seasoning, and garlic powder. Stir well to combine.
Spread the cheese mixture evenly over the bottom of the baking dish.
Then spread the pizza sauce over the cheese mixture.
Sprinkle the remaining shredded cheese over the pizza sauce to cover i
Sprinkle the pepperonis, crumbled sausage, bell pepper, black olives, and onions over the entire surface of the dip.
Place the supreme pizza dip in the oven and bake for at least 20 minutes, or until the cheese has melted and is bubbly around the edges. Serve hot with crackers, pita chips, or veggies.
— Tips
Make sure the cream cheese is softened before mixing it with the other cheeses. This will ensure a smooth and creamy consistency.
You can use any kind of pizza toppings you like in this recipe. Try adding cooked sausage, mushrooms, or even pineapple for a Hawaiian twist.
If you're short on time, you can make this dip ahead of time and keep it in the fridge until you're ready to bake it. Just add a few extra minutes to the cooking time to make sure it's heated through.
While this dip isn't exactly health food, it's a great treat to indulge in every once in a while. Pair it with some fresh veggies or a side salad to add some nutritional value to your meal.
In conclusion, Supreme Pizza Dip is a delicious and easy-to-make appetizer that's perfect for any occasion. With its cheesy goodness and loaded toppings, it's sure to be a crowd-pleaser. Give it a try at your next gathering and watch as it disappears in no time!
➤That's it, all you have to do is Enjoy !