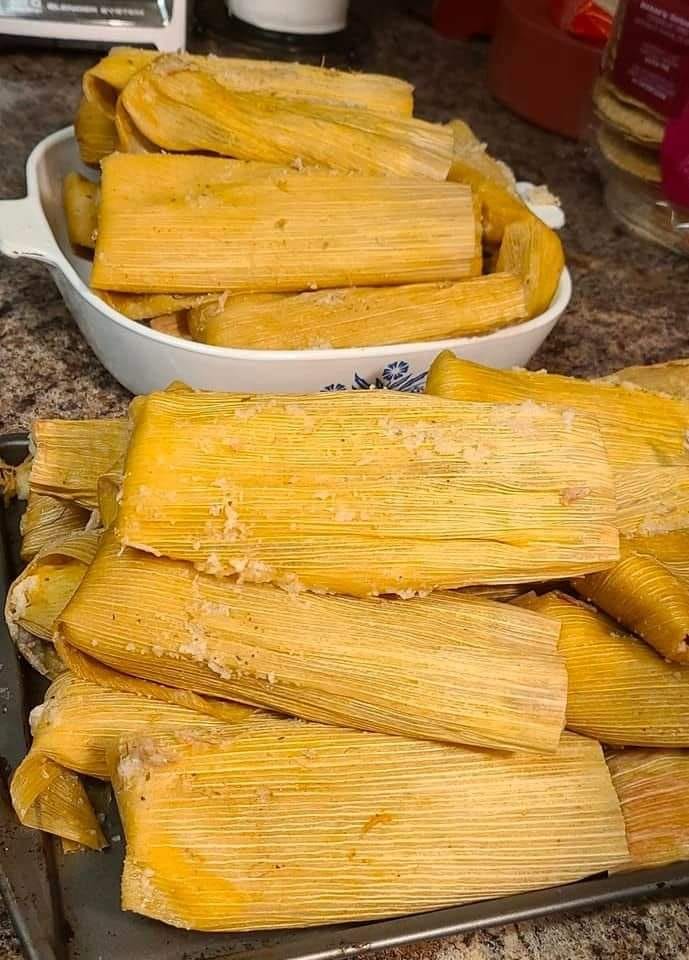 Ingredients:
2 cups masa harina (corn flour)
1 1/3 cups warm water or broth
2/3 cup lard or vegetable shortening
teaspoon baking powder
1 teaspoon salt
 1/2 cups filling (such as cooked, shredded chicken, beef, or pork, sautéed vegetables, or cheese)
1/4 cup red or green salsa (optional)
20-25 dried corn husks, soaked in warm water for 1 hour and drained
Instructions:
Prepare the masa dough:
a. In a large bowl, mix the masa harina with warm water or broth until combined.
b. In another large bowl, beat the lard or vegetable shortening with an electric mixer on medium speed for about 1 minute until creamy.
c. Add the masa mixture, baking powder, and salt to the lard or shortening, and continue beating until a soft, smooth dough forms (about 2 minutes).
Assemble the tamales:
a. Lay a soaked corn husk flat on your work surface, with the wide end facing you.
b. Spread about 2 tablespoons of masa dough on the husk, leaving a 1/4-inch border around the edges.
c. Place about 1 tablespoon of filling in the center of the masa, and add a small dollop of salsa if desired.
d. Fold the right side of the husk over the filling, followed by the left side, overlapping slightly. Then, fold the narrow end of the husk up towards the wide end, creating a sealed packet. Repeat with the remaining husks, masa, and filling.
Steam the tamales:
a. In a large pot with a steamer insert, add about 1 inch of water and bring it to a simmer.
b. Stand the tamales upright, folded side down, in the steamer insert. Make sure they're tightly packed together to help them keep their shape during cooking.
c. Cover the pot with a tight-fitting lid and steam the tamales for 1 to 1 1/2 hours, or until the masa is firm and easily pulls away from the husk. Check the water level occasionally and add more if needed to prevent the pot from drying out.
Serve the tamales:
a. Remove the tamales from the steamer and let them cool for a few minutes.
b. Unwrap the tamales from the corn husks and serve with additional salsa, sour cream, or guacamole, if desired.