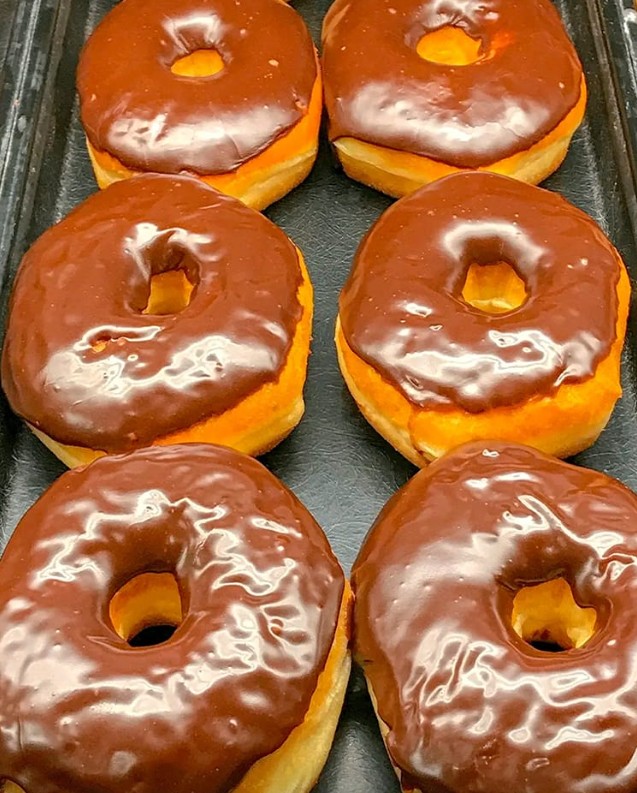 Ingredients
Ingredients for mother dough:
3 g of fresh yeast
90 g of tempered water
140 g of harine
Ingredients for the final dough:
mother masa
3 egg yolks
15 g of milk
30 g of sugar
20 g of fresh yeast
125 g of harine
Two salt pellizcos
30 g of butter
Ingredients for the topping:
100 g chocolate coating
1 spoonful of butter
3 spoonfuls of milk
50 g of glass sugar
Preparation
1. At first, we mix all the ingredients of the mother dough in a bowl, make a ball and leave it covered with a cloth in a warm place, until it doubles its volume (at least 1 hour).
2. After that time we put the milk with the yeast, the yemas, the sugar and, on top, the mother mass and the harina with salt in the bucket of the breadmaker.
Let's put on the program "sólo de amasado".
A los 10 min de empezar el amasado, añadimos la mantequilla que nos nosotros.
When we see that all the dough is a perfect ball, we take out a bol (greased with oil) and let it take it again until it doubles the volume (1h).
3. After we give the dough a puñetazo to degasify and divide it into 11 portions. We make a ball with each one of them and with our fingers we make a sharpener in the center.
Let's take it on oven paper.
This time it will take much less time, just half an hour.
4. We heat up the oil and let's friendo our donuts and remove them on absorbent paper.
5. Put all the ingredients for the topping on a small plate and put it in the microwave for 1 min.
After that time, we open and mix well, so that the cover stays together.
If necessary, put it in the micro for 2 minutes longer.
6. Cogemos los donuts y los mojamos en la penthouse.
Then we leave them on a grid so that they cool down, until the time to consume themminutos.