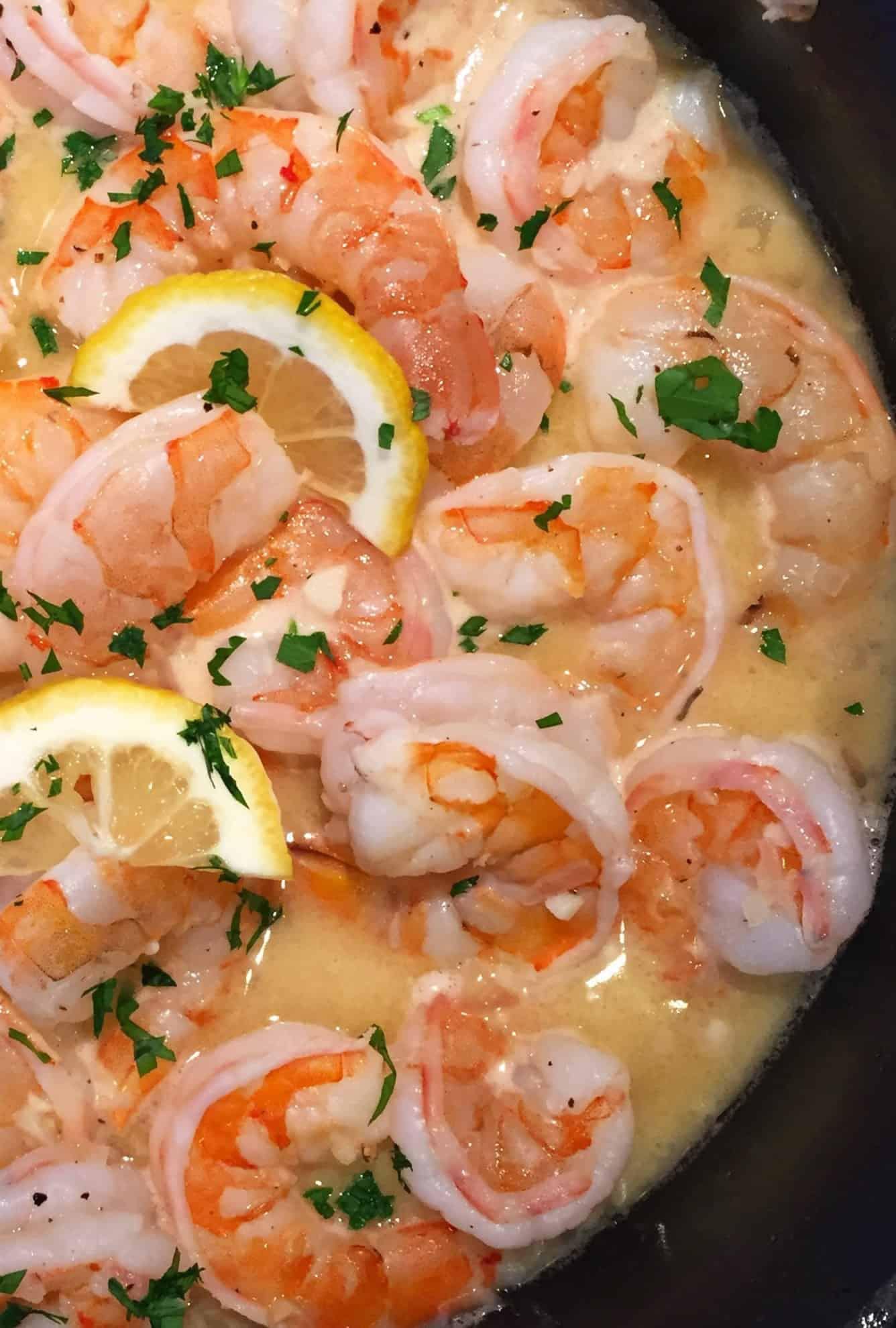 With only an handful of ingredients, this elegant Lemon and Garlic Butter Shrimp Scampi is delicious and easy to prepare. Shrimp, garlic, butter, lemon and white wine are the only ingredients in this restaurant worthy entree.
Total Time: 15 minutes
INGREDIENTS
lemon and garlic butter shrimp scampi
3 tablespoons butter, divided
4 garlic cloves, minced
1/2 cup white wine (Chardonnay, Sauvignon Blanc or Pinot Grigio)
2 lemons, 1 for the sauce and 1 cut in wedges
1 and 1/2 pounds jumbo shrimp, peeled and deveined
2 tablespoons chopped fresh parsley
Salt and pepper to taste
Cook Mode Prevent your screen from going dark
INSTRUCTIONS
lemon and garlic butter shrimp scampi
Heat a large sauté pan over medium high and add 2 tablespoons of butter. When the butter has melted and is beginning to foam, add the garlic. Sauté for about 30 seconds.
Add the wine and the juice and zest of 1 lemon to the pan. Bring to a simmer and reduce the liquid for 2 to 3 minutes.
Add the shrimp and cook for 2 to 4 minutes. Turn shrimp over one time to cook through.
Add the remaining 1 tablespoon of butter and stir until it has melted into the sauce.
Sprinkle with parsley, season with salt and pepper and serve with lemon wedges.
NOTES
If your shrimp is fresh or thawed, you will want to cook it the day of purchase. After it is cooked, it will last in the refrigerator for 3 to 4 days.
Take care to sauté the garlic for only 1 minute at the most. Any longer and it will scorch and add a bitter or burnt taste to the dish.
Be sure to reduce the wine for a couple minutes. It will intensify the flavor of the sauce.
Only cook the shrimp until they are just opaque. A lengthier cooking time will make the shrimp tough and rubbery.
Stirring in a final tablespoon of butter will ensure a velvety smooth sauce.