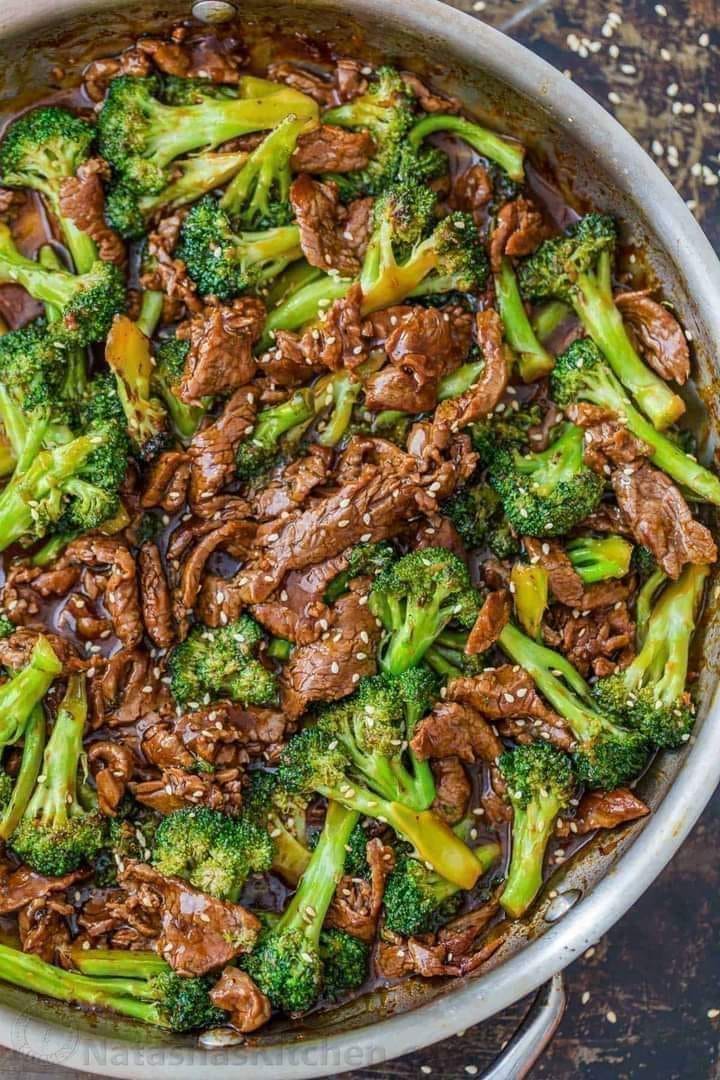 Beef and Broccoli Ingredients:
1 lb flank steak, very thinly sliced into bite-sized strips
2 Tbsp olive oil , (or vegetable oil), divided
1 lb broccoli, (cut into 6 cups of florets)
2 tsp sesame seeds, optional garnish
Stir Fry Sauce Ingredients:
1 tsp fresh ginger, grated (loosely packed)
2 tsp garlic, grated (from 3 cloves)
6 Tbsp low sodium soy sauce, (or GF Tamari)
3 Tbsp packed light brown sugar
Prep: Start cooking white rice first so it's ready when the stir fry is done. Cover and freeze steak 30 minutes for easier slicing.
Combine all stir fry sauce ingredients in a bowl, stir well to dissolve the sugar, and set aside.
Place a large skillet over medium heat and add 1 Tbsp oil. Add broccoli florets and sauté 4-5 minutes, partially covered with lid, stirring or tossing several times until broccoli is bright green and crisp-tender then remove from pan. Tip: If you prefer softer broccoli, add 2 Tbsp water before covering with the lid and it will steam cook the broccoli.
Increase heat to high heat and add 1 Tbsp oil. Add beef in a single layer and sauté 2 minutes per side or just until cooked through. Quickly pull out a piece to test for doneness.
Add the sauce, reduce heat to medium/low and simmer 3-4 minutes. It will thicken. Add broccoli and stir to combine. Stir in 1-2 Tbsp water to thin the sauce if desired. Serve over white rice.