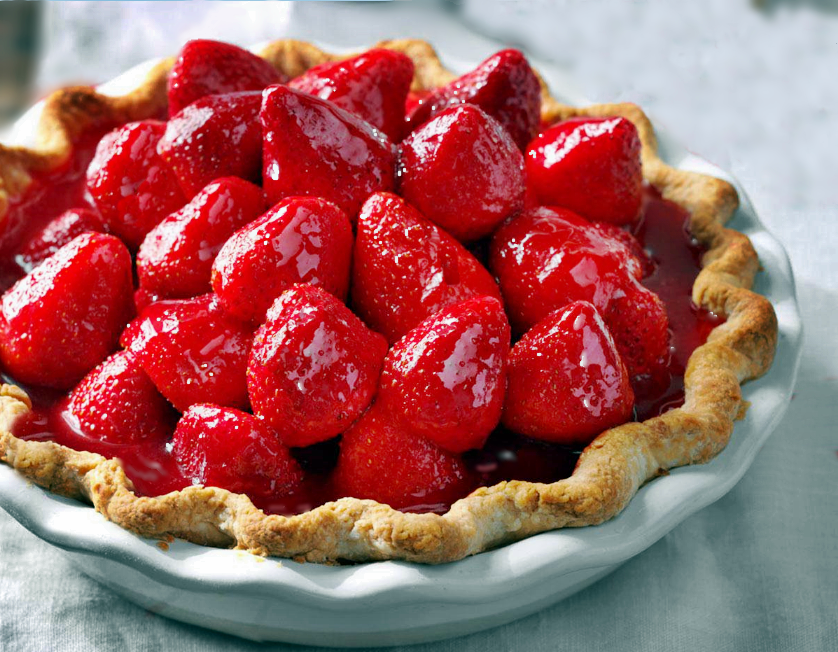 Ingredients:
2 cups all-purpose flour
2 teaspoons sugar 1/2 teaspoon salt
2/3 cup shortening
1 tablespoon white vinegar
4 to 5 tablespoons 2% milk
FILLING:
1 package (8 ounces) cream cheese, softened
3/4 cup confectioners' sugar
2 teaspoons grated lemon zest
1/2 teaspoon lemon extract
TOPPING:
6 cups fresh strawberries, hulled (about 2 pounds)
3/4 cup sugar
1 tablespoon cornstarch
1/4 teaspoon salt
1 cup water
1 package (3 ounces) strawberry gelatin
1 teaspoon butter
Directions:
In a large bowl, mix flour, sugar and salt; cut in shortening until crumbly. Gradually add vinegar and milk, tossing with a fork until dough holds together when pressed. Shape into a disk; wrap and refrigerate 1 hour or overnight. On a lightly floured surface, roll dough to a 1/8-in.-thick circle; transfer to a 9-in. deep-dish pie plate. Trim crust to 1/2 in. beyond rim of plate; flute edge. Refrigerate 30 minutes. Preheat oven to 425°. Line crust with a double thickness of foil. Fill with pie weights, dried beans or uncooked rice. Bake on a lower oven rack 20-25 minutes or until edges are golden brown. Remove foil and weights; bake 3-6 minutes longer or until bottom is golden brown. Cool completely on a wire rack. In a bowl, beat cream cheese, confectioners' sugar, lemon zest and extract until blended. Spread carefully onto bottom of crust. Refrigerate while preparing topping. Place strawberries in a large bowl. In a small saucepan, mix sugar, cornstarch, salt and water until blended; bring to a boil over medium heat, stirring constantly. Cook and stir 1-2 minutes longer or until thickened and clear. Remove from heat; stir in gelatin until dissolved. Stir in butter. Pour over strawberries, tossing gently to coat. Arrange over filling. Refrigerate 4 hours or until set.