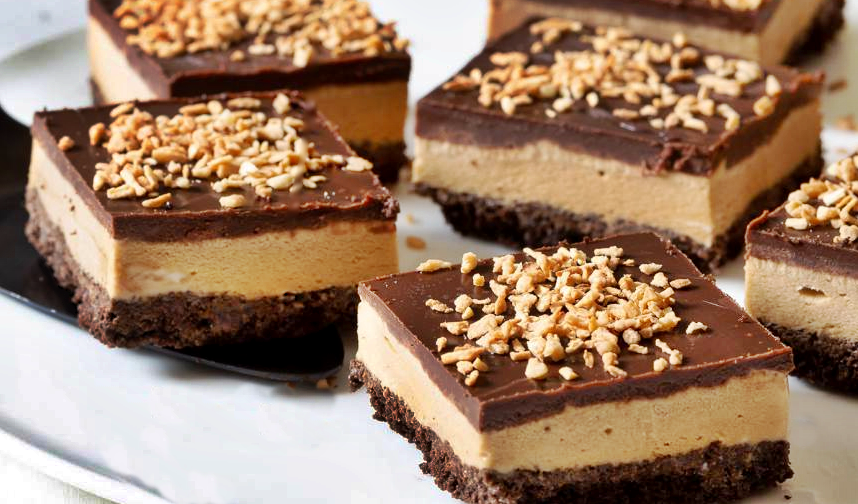 ingredients:
Crust
2 (14-ounce) packages chocolate sandwich cookies
1/2 cup (1 stick) margarine
Ice Cream
2 quarts (2 kilograms) parve vanilla ice cream
6 tablespoons instant coffee dissolved in
2 tablespoons boiling water
Chocolate Peanut Butter Topping
10 ounces (280 grams) chocolate (I used 52%)
1/2 cup Peanut Butter 1 cup parve cream (either coconut cream or Non-Dairy Whipped Topping) nut crunch, for topping
Prepare the Sheet Pan:
Dessert Preheat oven to 350 degrees Fahrenheit (175 degrees Celsius). Place the sandwich cookies and margarine into the bowl of a food processor, and pulse until fully ground. (Alternatively, you can place the cookies and margarine in a ziplock bag, and roll over it with a heavy-weight rolling pin.) Press onto a baking sheet lined with Gefen Parchment Paper, and bake for 15 minutes. Allow to cool. Allow ice cream to melt slightly, and fold dissolved coffee into it. Spread ice cream over cooled crust. Place in freezer to set. To make the ganache topping, heat chocolate, peanut butter, and parve cream in a double boiler until chocolate is melted and ingredients are combined. Remove from heat and allow to cool to room temperature, stirring occasionally. Pour ganache evenly over the ice cream layer. Top with nut crunch.