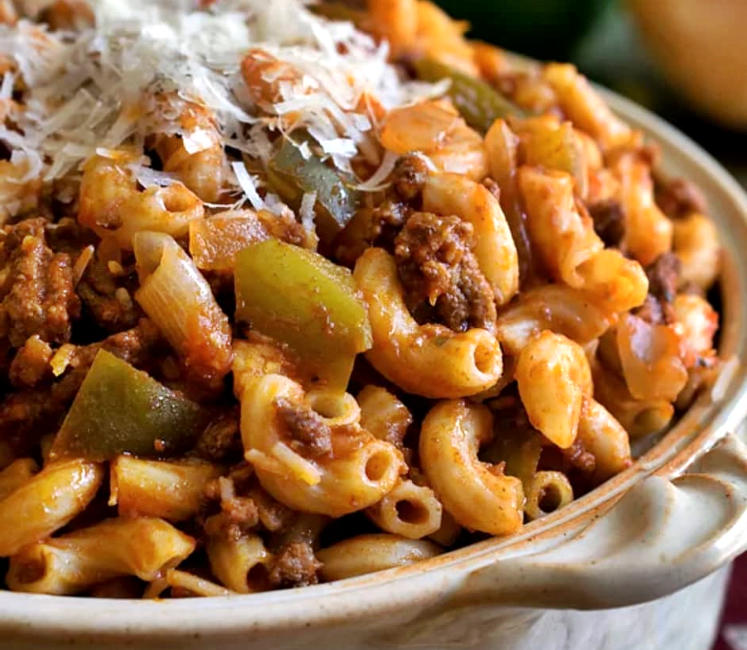 INGREDINET 
2 tablespoons plus

¼ cup extra virgin olive oil, divided
3 cups diced onion (divided as
1 cup fine dice and 2 cups ¾ inch dice) 3 cups diced green bell pepper (divided as
1 cup fine dice and
2 cups ¾ inch dice)
2 tablespoons minced garlic 2 pounds 80/20 ground beef 1 28-ounce can crushed tomatoes (we like Pastene)
1 cup tomato sauce
1 5.5 ounce can of V-8 juice
1 tablespoon Worcestershire sauce
2 tablespoons tomato paste
2–3 Fresh Parmesan rinds, about
4 inch squares (optional)
1 ½ tablespoons fresh chopped mint (if using dried, use half that amount)
2 tablespoons fresh chopped basil (if using dried, use half that amount)
1 tablespoon fresh chopped oregano (if using dried, use half that amount)
1 teaspoon salt
½ teaspoon freshly ground black pepper
1 teaspoon sugar
1 pinch red pepper flakes 12 ounce dry elbow macaroni noodles
½ cup grated Parmesan cheese, for serving
Instructions
In a heavy bottomed Dutch oven or nonstick pot over medium high, heat 2 tablespoons of the olive oil and add one cup of the fine diced onions, one cup of the fine diced peppers and the garlic and sauté for one minute. Add the ground beef and cook until no longer pink, breaking it up into small pieces.

When the beef is cooked, pour the entire contents into a strainer and strain off the liquid. Place the beef mixture back into the pan along with the quarter cup of olive oil. Add canned tomatoes, tomato sauce, V-8, Worcestershire sauce, tomato paste, the optional Parmesan rinds, chopped mint, chopped basil, chopped oregano, salt, pepper, sugar and pepper flakes.

Using a heat diffuser under pot (see here), cover pot and simmer 30 minutes.

After 30 minutes add the two cups ¾ inch diced onion and two cups ¾ inch diced bell pepper. Cover and simmer 30 more minutes.

Fifteen minutes after adding the second batch of onions and peppers to the tomato beef mixture, in a large separate pot of salted water, bring to a boil and cook elbow noodles until just slightly under cooked.

After the tomato mixture has cooked for the second 30 minutes (60 minutes total), with a spider or strainer, add noodles and one cup of pasta water to the tomato beef mixture. Heat and stir for five minutes or until the pasta is perfectly cooked.

With a spoon or tongs, remove the Parmesan cheese rinds and discard.

To serve, ladle into bowls and spoon freshly grated Parmesan cheese over each bowl.