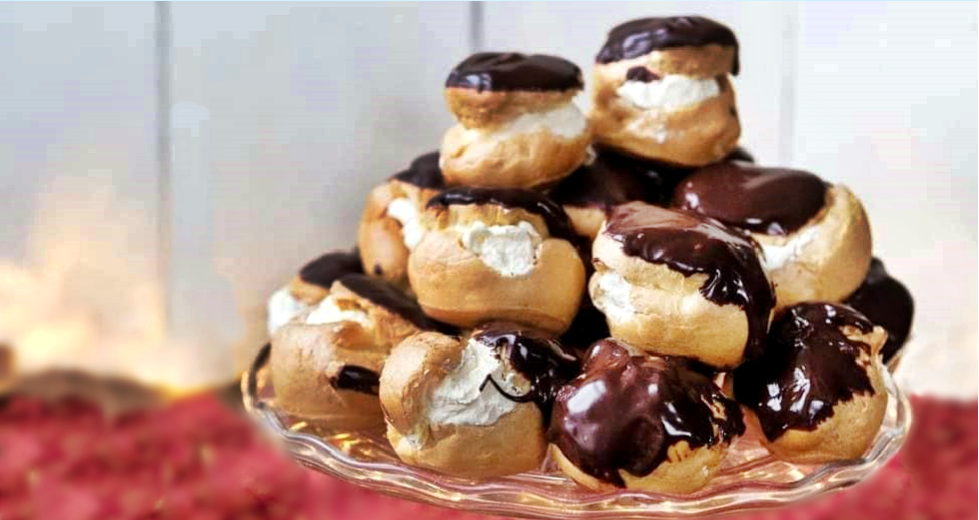 1 quart homemade or store-bought vanilla ice cream, softened slightly (see note)One recipe Choux Pastry(made with water and optional sugar),
transferred to a pastry bag fitted with a 1/2-inch plain, round tipPowdered sugar,
for dustingFor the Chocolate Sauce:
8 ounces bittersweet chocolate,about 60%,
chopped (1 1/2 cups; 230g)

1/2 teaspoon Diamond Crystal kosher salt; for table salt, use half as much by volume
1/2 teaspoon instant espresso powder

1 1/4 cups (295ml) heavy cream
Instructions
Line a rimmed baking sheet with parchment paper and place in freezer until cold, about 10 minutes. Remove prepared baking sheet from freezer. Using a 2-ounce ice cream scoop, scoop 18 balls of ice cream onto prepared baking sheet and place in freezer until ice cream is firm, about 30 minutes.
Adjust oven racks to upper-middle and lower-middle positions and preheat oven to 400°F (204°C). Line two rimmed baking sheets with parchment paper. Pipe a small amount of choux paste under each corner of parchment paper (the dough acts as a glue and keeps the paper in place as you pipe).
To pipe the choux puffs, hold the filled pastry bag at a 90° angle, apply steady downward pressure, and pipe a 2-inch-wide mound (see note). To stop piping, cease applying pressure and swirl the pastry tip away. Continue to pipe choux mounds about 3 inches apart, for a total of 9 choux mounds. Repeat with second tray. To smooth the surface of any uneven choux mounds, dip a finger into cold water and gently pat down any bumps. Dust choux mounds evenly with powdered sugar.
Bake both trays until choux mounds are puffed, deeply golden brown, and feel hollow when lifted, about 25 minutes. Turn off oven, crack the door open, and let stand for 30 minutes to allow profiteroles to dry and fully set. Remove from oven and let cool completely, about 15 minutes.
To Make the Chocolate Sauce: In a heatproof medium bowl that will sit comfortably on top of a 1-quart stainless steel saucepan without toppling over, combine chocolate, salt, and espresso powder. In a 1-quart stainless-steel saucepan, heat cream over medium-high heat until it has reached a simmer and started to bubble hard around the edges. Immediately pour hot cream over chocolate and let stand 1 minute. Whisk until smooth.
Clean saucepan and fill with 1 inch water. Bring to a boil over high heat. Turn off heat, then carefully set bowl with chocolate sauce on top of the saucepan to keep warm.
To serve, using a serrated knife, slice each choux puff in half to create a top and bottom "bun." Place a scoop of ice cream on each bottom half. Cover with the top half of each puff. Serve profiteroles immediately with chocolate sauce drizzled on top.