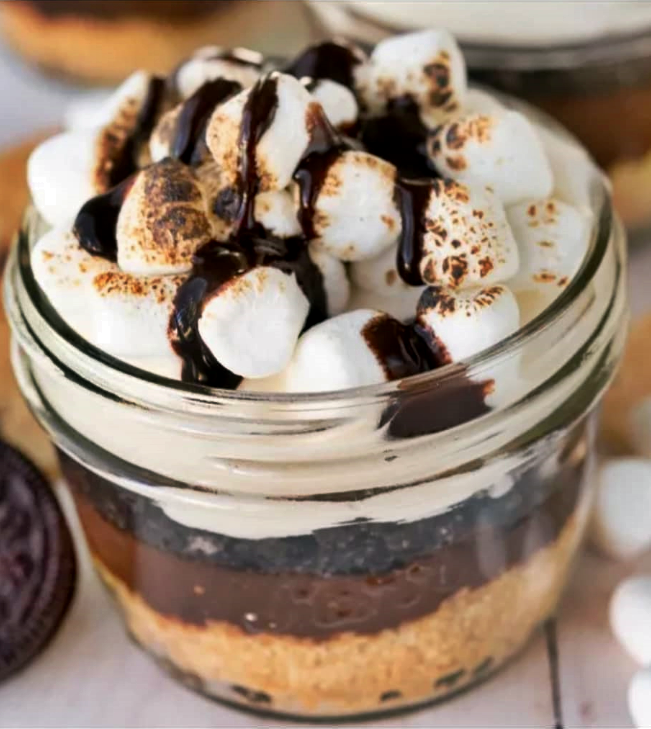 Oreo S'mores Trifle is an easy layered dessert recipe! Graham crackers, chocolate pudding, Oreos, whipped cream, toasted marshmallows and chocolate syrup all layered in a mason jar. This trifle is perfect for picnics or on the go!
Ingredients
1 3.4-3.9 ounce box INSTANT chocolate pudding

2 cups nonfat milk

2 tablespoon unsalted butter melted

1 cup graham cracker crumbs about
6 full sheets of graham crackers

6 Oreos crushed

Marshmallow Whipped Cream


1-2 cups mini marshmallows

Chocolate sauce for garnish
Instructions
Whisk pudding and milk in a medium bowl. Set aside to thicken for about 5 minutes.
Stir butter and graham cracker crumbs in a medium bowl with a fork. Press into the bottom of 6 jars or serving dishes (1-cup size).
Spoon pudding equally into jars. Top with crushed Oreos. Cover and chill until ready to serve, at least 1 hour.
Before serving, add the marshmallow. You can use marshmallow whipped cream or add toasted marshmallows, or both. Top Oreos with whipped cream, top with marshmallows, and toast them with a blow torch. (Or just top the trifles with marshmallows you toast outdoors.) Drizzle with chocolate sauce.