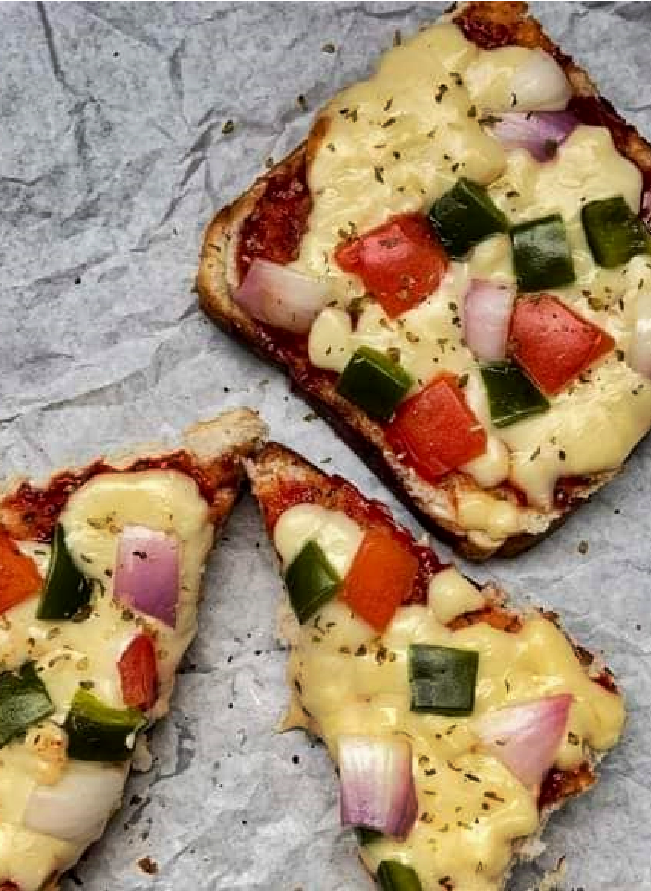 Ingredients:
4 bread slice
1/4 cup tomato ketchup
1/2 teaspoon red chilli powder
1/2 teaspoon dried oregano
2 teaspoon cheese spread
4 tablespoon grated cheese
Toppings(capsicum, onion&tomatoes
1 teaspoon oil or ghee
Instructions:
Pizza sauce: in a bowl add 1/4 cup tomato ketchup, 1/2 teaspoon red chilli powder and 1/2 teaspoon oregano. It's ready
Now take 2 bread slice cut off its sides and roll it thin with rolling pin.
Take another 2 bread slice spread cheese spread on it and place rolled bread over it then spread pizza sauce over it.
Top it with pizza cheese(mix of mozzarella cheese & cheddar cheese) and veggies.
Drizzle some oil on a non stick pan place bread pizza on it, cover and cook at low flame for 4 to 5 minutes until the cheese melts.
Transfer the bread pizza to a plate sprinkle some oregano and chilli flakes over it and it's ready to serve.
Serve it hot.