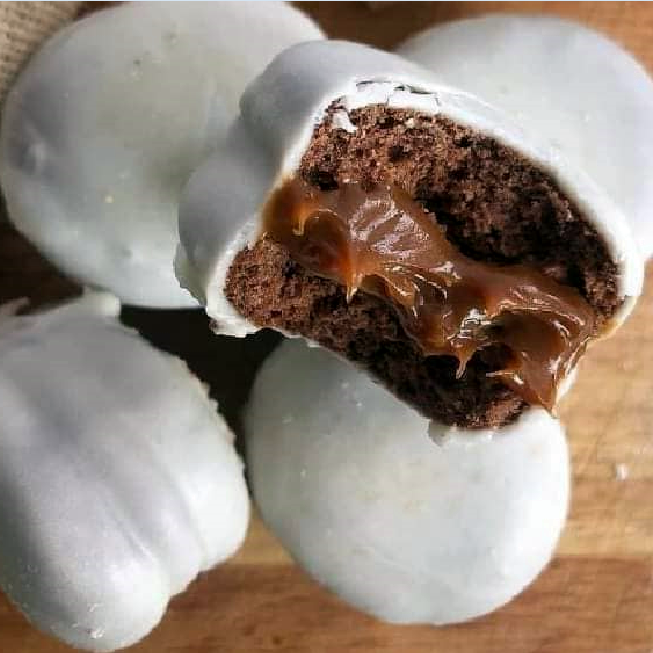 Ingredients:
20 small alfajores come out
85gr butter
Half orange zest
2 tablespoons rum/whiskey (optional)
250gr flour 0000
Baking powder 1 teaspoon
50 gr cornstarch (if you don't have it, you can replace it with flour)
80gr of sugar (I used black but it can be white too)
2 tablespoons of honey
20gr bitter cocoa powder
1 egg
DDL confectioner 400gr
white choco pastry bath 300gr. Or the one you have at home available
Preparation method:
We mix the ointment butter with the zest of
and with the sugar. Then we incorporate the essence of vanilla, honey and rum. Once it is well integrated we add the egg. Finally we are going to incorporate all the dry ones (bitter cocoa, flour, cornstarch, baking powder) that if you can sift them, the better. We add them in parts integrating with a spatula and when it is very thick, with the hand.
We form a bun (DO NOT knead, I just put everything together well) and we take it well covered to the refrigerator 40 'before stretching. We stretch on the counter with a little flour, and cut with the circular cutter or with a cup of coffee.
We take to an oiled plate and to a preheated oven at 180 degrees for approx 10 '(they only have to brown just below). Let it cool at room temperature. We take a cap, put with a sleeve or with a spoon dulce de leche and close by putting the other cap.
For the chocolate coating, we cut the pieces, and take it to the microwave for 30 second intervals and stir until it is well liquid and without lumps. I used Alpine Chocolate, which is the most
. We put an alfajor inside the chocolate and we help ourselves with two forks and we go around it. Let cool on a rack, or greased aluminum foil.