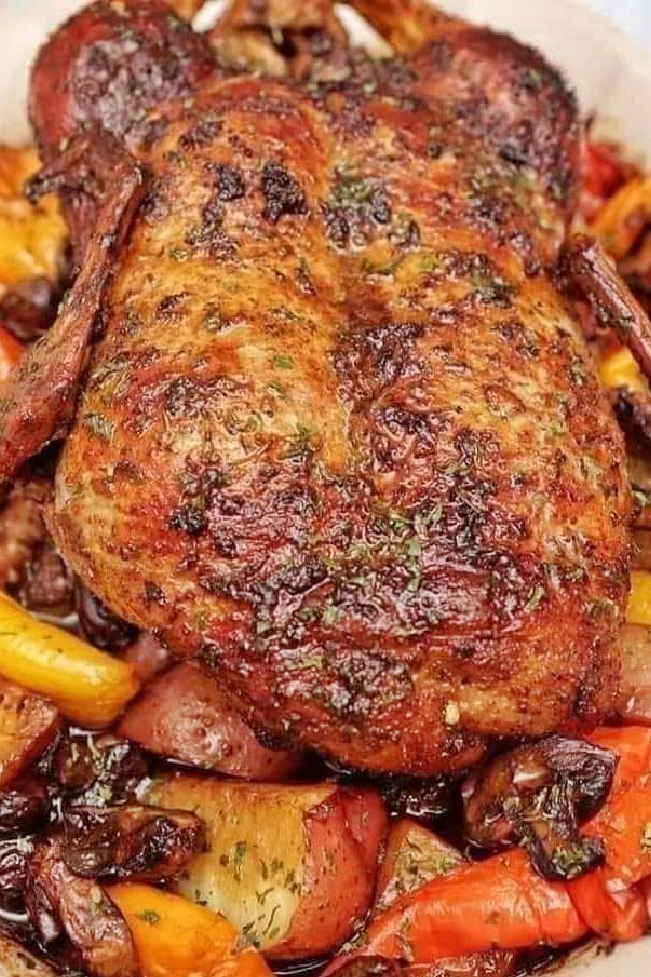 Ingredients:
1 large Lemon cut in half
¼ cup butter room temperature
2 tsp Salt
Pepper to taste
2 Tbsp Garlic minced
6 Tablespoons Butter room tempreture
2 tsp Thyme fresh, or ½ tsp dried
2 tsp Rosemary fresh, or ½ tsp dried
1 tsp Sage or 1 tsp fresh
1 tsp Onion Powder
For the vegetables
6-8 baby Potatoes
Small bag of Carrots (I forgot to measure)
1 medium Onion
2 Tbsp olivd oil
1 tsp Garlic Salt
Instructions:
Preheat the oven to 200°C.
Chicken:
Remove the giblets from the chicken if there are any. Wash and pat the chicken dry with a paper towel. Stick a half lemon in the cavity of the chicken. Tie the legs together with a piece of kitchen string and tuck the wings underneath the chicken.
Lightly salt and pepper the entire chicken.
In a small mixing bowl, add the the butter, seasoning and minced garlic.
Use a fork and mix all ingredients together until smooth.
Using your hand smear the butter mixture all over the chicken.
Place the chicken into a glass baking dish, dutch oven, or cast-iron skillet.
Wash potatoes and carrots, cut potatoes in halves. Cut onions into large chunks and drizzle vegetables with olive oil before placing them around the chicken. Sprinkle the vegetables with garlic salt.
Bake at 200°C preheated oven for 45 minutes. The skin on the chicken is golden brown, cover the chicken loosely with aluminum foil and continue to bake for a further 30 minutes. The cooking time will probably be somewhere around 70-80 minutes.
Take the chicken out of the oven and let it cool for 10 minutes before serving,
Enjoy… !
We share good content every day