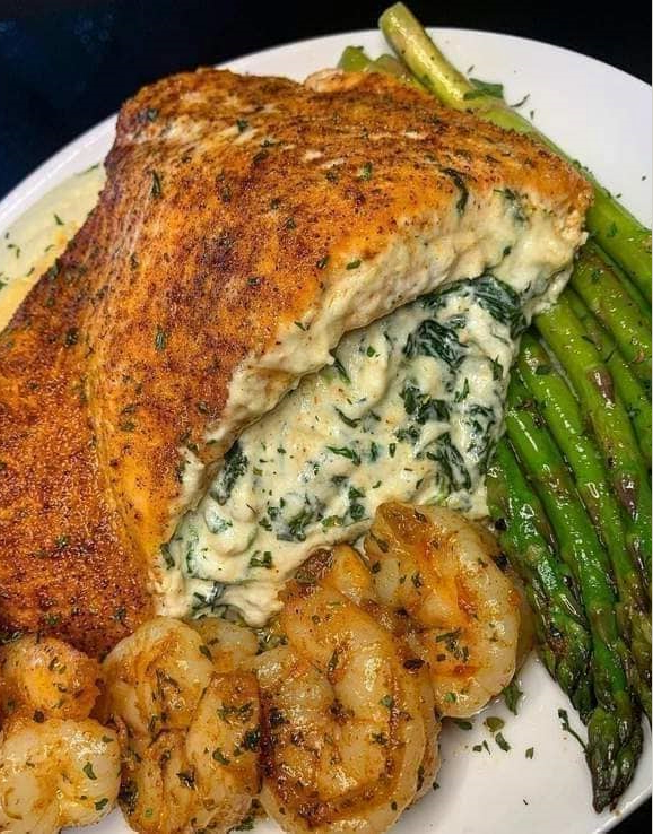 Ingredients:
4 salmon fillets, 5 ounces each, skin on
2 teaspoons smoked or sweet paprika
1 teaspoon dried marjoram leaves
Salt and freshly ground pepper, to taste
6 ounces cream cheese, softened
2 ounces finely shredded cheddar cheese
4 cloves garlic minced
1 tablespoon Cajun Seasoning
3 tablespoons avocado oil, divided (you can also use olive oil)
1 tablespoon butter, divided
Chopped fresh parsley for garnish
lemon wedges, for serving
Instructions:
Using a paring knife, cut a slit on the side of each salmon fillet to create a pocket. Do not cut all the way through.
Raw salmon fillets with pockets
Season salmon fillets with paprika, marjoram, salt, and pepper. Rub in the seasonings with your fingers. Set aside.
In a mixing bowl, combine softened cream cheese, cheddar cheese, garlic, and Cajun seasoning; mix and stir until well incorporated. Taste and adjust accordingly. If you like a spicier filling, add some cayenne pepper.