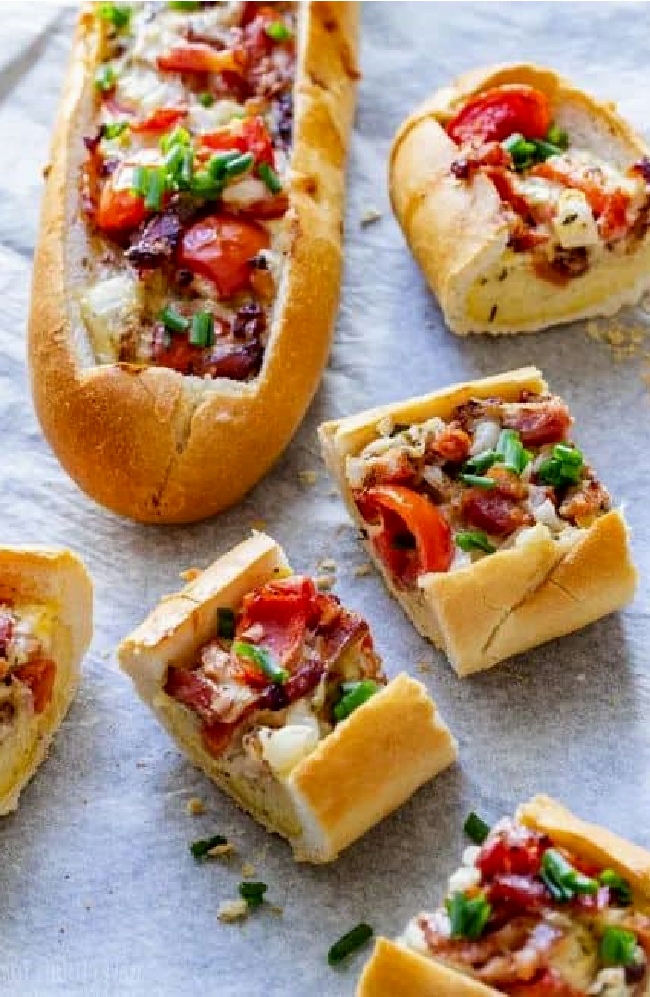 Ingredients:
2 Medium French Baguette (10-inch/25-centimeter long)
4 Large Eggs
1 cup Cherry Tomatoes , halved
½ cup Red Onion , minced, see note 1
½ cup Shredded Cheese , see note 2
½ cup Cooked Bacon Pieces , see note 3
Black Pepper , a pinch
Salt , to taste, see note 4
1 teaspoon Dried Oregano
Instructions:
Preheat oven to 350° Fahrenheit (180° Celsius).
With a knife, cut out the middle of each baguette, making sure not to cut through the bottom. Take the cut part out. You should end up with a boat-like shape. The empty space should be deep enough and wide enough for filling so you might need to remove some more bread (use your hands).
When ready, place both baguettes onto a baking tray lined with baking parchment. Set aside.
In a mixing bowl, beat the eggs with a fork. Add in cherry tomatoes, minced onion, half of the shredded cheese, bacon, black pepper, salt and oregano. Mix well. Pour the mixture into the hollowed-out centre of both baguettes.
Transfer the tray into the oven and bake at 350° Fahrenheit (180° Celsius) for 20 minutes. Take it out and sprinkle with the remaining cheese. Bake for a further 5 minutes or until the eggs are set.