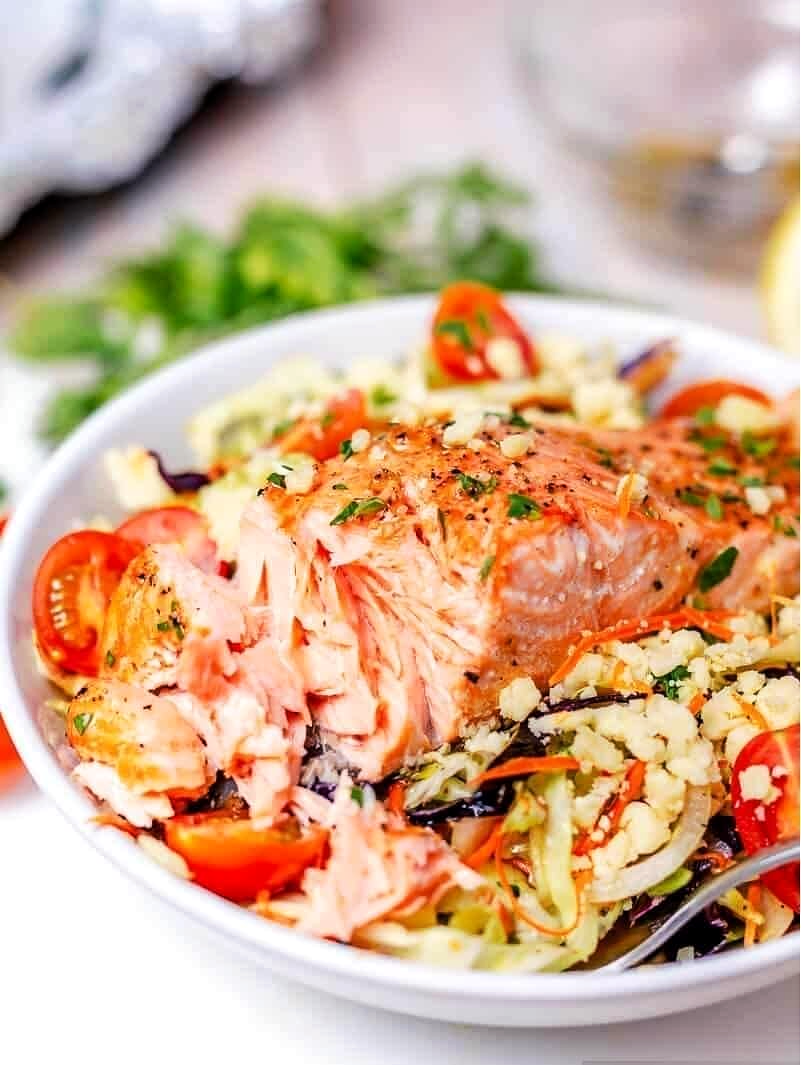 Ingredients:
Salmon:
2 4 oz or larger salmon fillets (preferably skinless, but it's personal preference)
½ teaspoon Salt or to taste
¼ teaspoon Black coarse pepper or to taste
1 teaspoon soy sauce
1 teaspoon fresh lemon juice
Salad:
Half of a white or red onion sliced
6-8 cherry or plum tomatoes
Half of a small head of Red cabbage shredded
Half of a small head of green cabbage shredded
½ of a large carrot grated or julienned
Salad Dressing:
3 tablespoon olive oil
1 teaspoon dried basil
1 teaspoon dried oregano
Salt and pepper to taste
1 ½ teaspoon maple syrup
½ teaspoon dijon mustard
Lemon juice to taste
Instructions:
Salmon. In a small bowl, mix together soy sauce, olive oil, lemon juice, salt & pepper. Rub the salmon (both sides) with salt and pepper.
Place the salmon fillets skin side down on the baking sheet, drizzle with the marinade, and roast in the oven at 400F for 12-15 minutes or until cooked through (roasting time will also depend on the size of your salmon).
Whisk together all of the salad dressing ingredients in a jar. Set aside. (Add lemon juice now or leave to drizzle on top of the salmon later).
In a large mixing bowl, combine the vegetables, pour in the dressing, and toss until fully combined. Distribute the salad equally between individual serving bowls.
Once salmon is cooked through, remove from the oven and place it on top of the salad.
Squeeze lemon juice on top (or just add lemon wedges on the side), add grated or crumbled cheddar cheese, sprinkle with parsley, and serve while the salmon is warm. Enjoy!