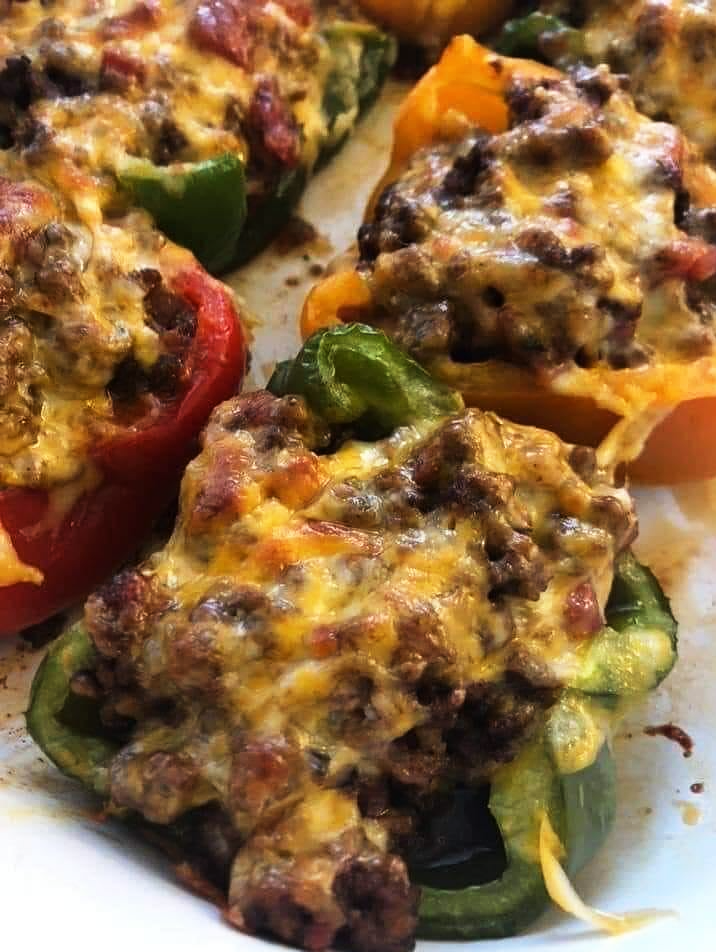 Ingredients:
1 red bell peppers
1 yellow bell peppers
2 green bell peppers
1.25 lbs ground beef, browned
1/4 onion, chopped
2 garlic cloves
1 10 ounce can Rotel
2 tbsp homemade taco seasoning
2/3 cup beef broth
1/2 cup steamed riced cauliflower (I steam a 10 oz bag and use part of it)
1 1/2 cup Monterey Jack Cheese or Colby Monterey Jack
Instructions:
Cut bell peppers in half horizontally and clean out the inside. Place face up on a greased 9×13 casserole dish and microwave for 5 minutes.
Add ground beef, chopped onion, and minced garlic to a skillet and cook until ground beef is browned. Drain.
Pop the steam bag of riced cauliflower in the microwave. Add the Rotel, homemade taco seasoning, beef broth, and 1/2 cup of riced cauliflower (save the rest for a different meal. You could add more, but my kids didn't notice it was in the ground beef with this amount)
Bring taco mixture to a boil and simmer for 10 minutes uncovered on medium allowing the liquids to reduce and the sauce thickens. If the sauce hasn't reduced after 10 minutes continue to simmer until it does.
Scoop the ground beef mixture into the bell peppers. Sprinkle grated cheese on top. Bake for 20 min in a 350-degree oven. Enjoy!
.