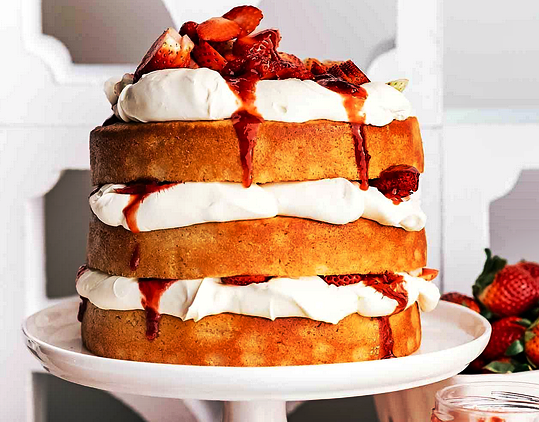 Whether it be for a birthday or dinner party, afternoon tea or midnight treat, this cake is the only ones you'll need.
Strawberries and cream and spice with a zip of balsamic. This cake celebrates all the classic strawberry combinations, a little like a greatest hits album, but way more delicious!"
Ingredients:
250g unsalted butter, chopped, softened

11/2 cups (330g) caster sugar, plus extra
2 tsp

110g brown sugar


6 eggs

2 cups (300g) self-raising flour, sifted

1 tsp mixed spice

21/2 cups (250g) almond meal

1 cup (250ml) milk

250g sour cream

750g strawberries, hulled


11/2 tbs balsamic vinegar

750ml thickened cream, whipped
Method:
1.

Preheat oven to 160°C. Grease base and sides of three 20cm round cake pans and line with baking paper.

You're watching
How to line a round cake tin
Place butter and sugars in a stand mixer fitted with the whisk attachment and whisk until pale and fluffy. Add eggs, 1 at a time, whisking between each addition, until well combined. In 2 batches, fold through flour, mixed spice, almond, milk and sour cream until combined. Divide among prepared pans. Bake, swapping pans halfway, for 45 minutes or until a skewer inserted into the centre of a cake comes out clean. Stand for 20 minutes to cool, then invert onto wire racks to cool completely
To make strawberry balsamic glaze, chop 250g strawberries and add to a saucepan with extra 2 tsp caster sugar, 1 tbs balsamic vinegar and 3 tsp water. Place over medium-high heat and bring to a simmer, stirring occasionally, for 5 minutes or until strawberry is broken down and thickened. Stand to cool slightly.
Using a serrated knife, trim tops from each cake to make them level.
Place 1 cake on a cake stand and top with one-third cream. Thinly slice remaining 500g strawberries and toss in a bowl with remaining 2 tsp balsamic vinegar. Layer one-third strawberry mixture over cream and drizzle with a little strawberry balsamic glaze. Repeat layering, finishing with strawberry mixture and more glaze. Serve with remaining glaze.