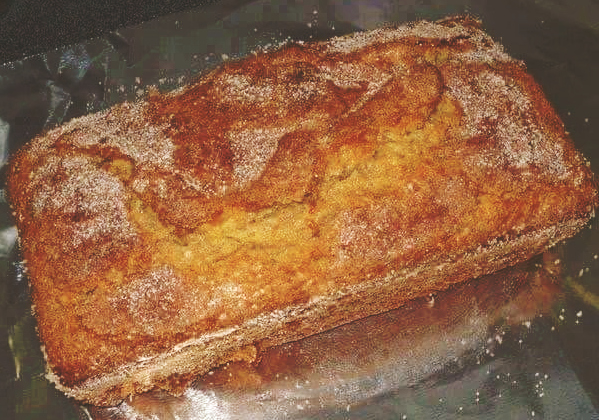 Ingredients:
FOR THE BREAD:
1 cup (2 sticks) Challenge butter, softened
2 cups granulated sugar
2 large eggs
2 teaspoons vanilla extract
2 cups buttermilk
4 cups all-purpose flour
2 teaspoons baking soda
FOR THE CINNAMON-SUGAR TOPPING:
⅔ cup granulated sugar
2 teaspoons ground cinnamon
Instructions:
Step1: Preheat the oven to 350 degrees F. Lightly grease two 9×5-inch loaf pans and set aside.
Step2: In a large bowl, cream together the butter, sugar, eggs, and vanilla using a handheld mixer. Using a rubber spatula, add the buttermilk, flour, and baking soda just until combined.
Step3: In a small bowl, combine the cinnamon-sugar topping ingredients and mix well.
Step4: Divide half of the batter between the two prepared pans. Evenly sprinkle three-fourths of the cinnamon-sugar mixture over the batter in both pans. Spread the remaining batter evenly over the top of both pans. Evenly sprinkle the remaining cinnamon-sugar over the top of both loaves. With a butter knife, cut a few swirl marks through the batter in both pans.
Step5: Bake for 45 minutes or until a toothpick inserted near the center tests clean.
Step6: Allow the bread to cool for 20 minutes in the pan before removing to wire racks to cool completely.