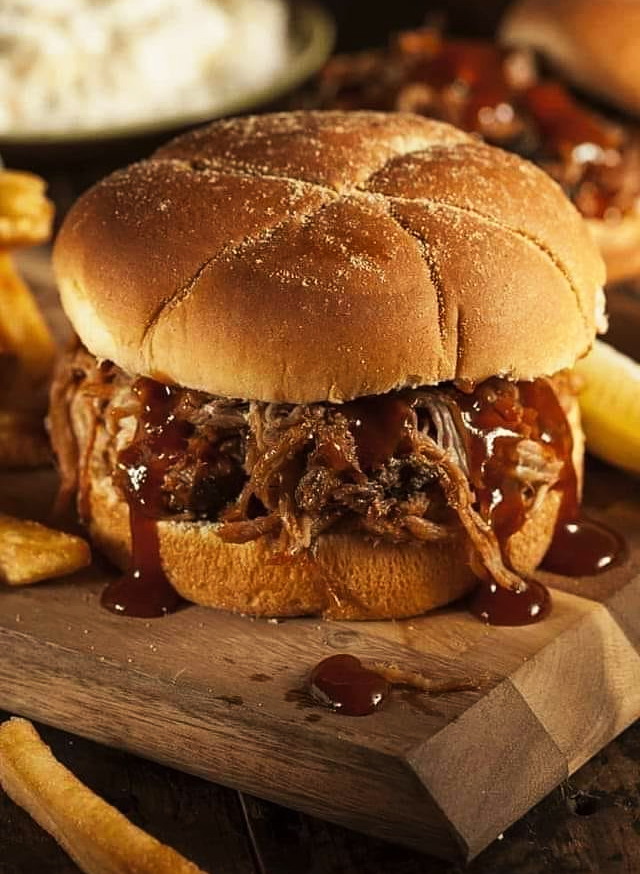 1 teaspoon vegetable oil
1 (4 pound) pork shoulder roast
1 cup barbeque sauce
1/2 cup apple cider vinegar
1/2 cup chicken broth
1/4 cup light brown sugar
1 tablespoon prepared yellow mustard
1 tablespoon Worcestershire sauce
1 tablespoon chili powder
1 extra-large onion, chopped
2 large cloves garlic, crushed
1 1/2 teaspoons dried thyme
8 hamburger buns, split
2 tablespoons butter, or as needed
DIRECTIONS:
Pour the oil into the slow cooker.
Carefully place the pork into the pot, turning to coat in the oil.
Add in the BBQ sauce, apple cider vinegar, and chicken broth, stirring around the meat to mix together.
Add in the brown sugar, yellow mustard, Worcestershire sauce, chili powder, onion, garlic, and thyme.
Mix the seasonings into the sauce, turning the pork to coat.
Put the lid on and cook on high for five to six hours – or on low for 10 to 12 hours.
Test that the pork is at the right temperature and that it will easily shred with a fork. Carefully remove the pork and place it on a tray or chopping board. Using two forks, pull the meat apart until completely shredded.
Carefully add the meat back into the slow cooker and stir into the juices. Leave the meat to rest and soak up the flavors for 15 minutes.
Spread the burger buns with the butter and toast until golden brown, in a skillet over medium heat.
Spoon the pulled pork into the burgers. Serve as a bun, or with added slaw.