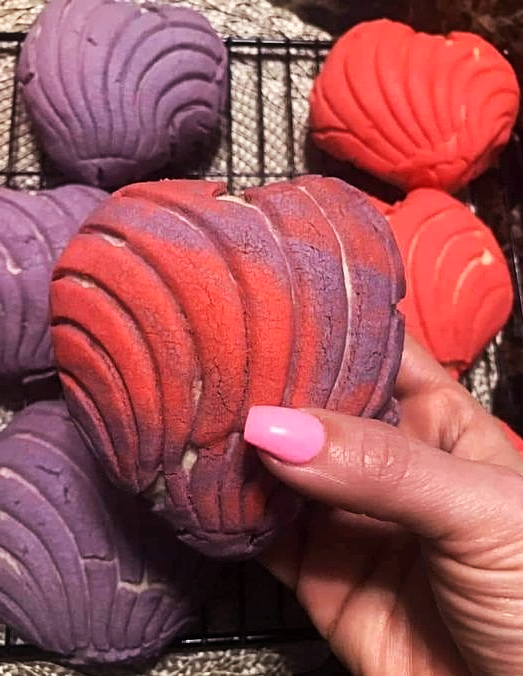 Ingredients:
4 cups flour
1 cup milk
1/4 cup of butter
1/4 cup of lard
2 room temperature eggs
1 1/2 tbs of instant Yeast
1/3 cup sugar
1 tsp of vanilla
1 tsp of cinnamon
METHODE:
Warm your milk for 30 seconds pour about 1/4 into a small bowl and add you yeast. Mix together till all the clumps are no longer there let rise for 5 mins.
While that is rising in a different bowl add your flour and sugar and combine together. Warm your lard and butter for 15 seconds. In your flour add your eggs mix only in the middle where you put your eggs add your lard butter mixture and mix a lil more add your vanilla and cinnamon.
Then add your yeast and milk mix a lil more then use your hands to finish making your dough grab another bowl and put oil all over it and place your dough in it and cover and place it in a warm place for an hour and a half to let rise. While that rises make your sugar topping.
You will need:
1 1/2 cup of flour
1 1/2 cup of powered sugar
1 1/2 cup of lard
Add flour and powered sugar mix a little then with your hands slowly add your lard and use your finger tips to mix in after you have it all mixed into a paste you can separate into different balls and add food coloring or sprinkles or coco powder add really good! Once your dough has risen put a lil flour on a cutting board and kn
eed it a bid then make a long piece and cut it into 8 parts the make each cut into a ball and place in a pan with parchment paper once they have set and have risen a bit get your sugar topping and you are going to grab a lil piece make it into to a ball put flour on your hand and make it into a flat circle to fit over your dough and repeat till all are covered.
Then using a butt knife make lines in your sugar topping be carful not to cut into the dough. Pre heat oven to 350 and bake them for 20 mins. Take out let sit for about 30 mins to let the sugar cool because it will burn you and enjoy
.