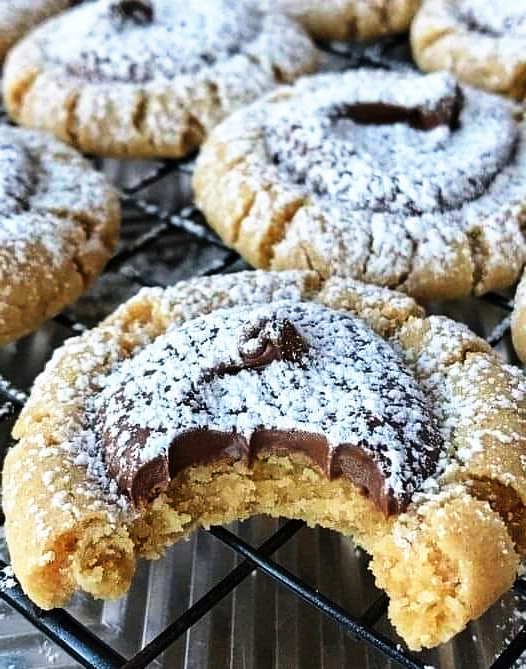 INGREDIENTS:
MUDDY BUDDY COOKIES
Peanut Butter Cookies:
1/2 cup (1 stick) butter softened
1/2 cup creamy peanut butter
1/2 cup granulated sugar
1/2 cup light brown sugar
1 large egg
1½ cups all-purpose flour
¾ teaspoon baking powder
¼ teaspoon baking soda
Milk Chocolate Center:
1 cup milk chocolate chips
½ teaspoon canola or vegetable oil
1/2 cup powdered sugar
How to Prepare: MUDDY BUDDY COOKIES
MUDDY BUDDY COOKIES
Step 1: Preheat the oven to 375 degrees. Prepare a cookie sheet by lining it with parchment paper or spraying with cooking spray.
To Make the Peanut Butter Cookies:
Step 2: Using a handheld blender, blend together the butter, peanut butter, sugar, and brown sugar for about 2 minutes until creamy and light in color. Add in the egg and beat to combine.
Step 3: In a small bowl, add the flour, baking soda, and baking powder. Stir with a wire whisk. Add this mix to the wet ingredients and beat on low speed until properly combined.
Step 4: Take about 1 tablespoon of dough and roll into a ball. Make 12 dough balls and place them onto the cookie sheet, then bake for 8 minutes.
Step 5: Immediately after baking, take a small flat-bottomed cup and gently press down on the cookie. This will flatten them as well as give those crinkly edges. Let cookies cool completely for about an hour on the cookie sheet.
To Make the Milk Chocolate Center:
 6: Melt chocolate chips and canola oil in a microwave-safe bowl for about 2 minutes, stirring every 30 seconds.
 7: Once melted, use a spoon to scoop a small amount of the chocolates and place onto the center of each cookie, spreading it gently
 8: Place the cookies in the refrigerator for about 15 minutes so that the chocolate sets and cools completely.
9: Remove the cookies from the refrigerator and then dust in powdered sugar.
10: Serve cookies immediately, or store at room temperature till it's time to serve.